Long Distance Bicycle Routes in France
The following is a screen shot of the Interactive Map at: https://en.francevelotourisme.com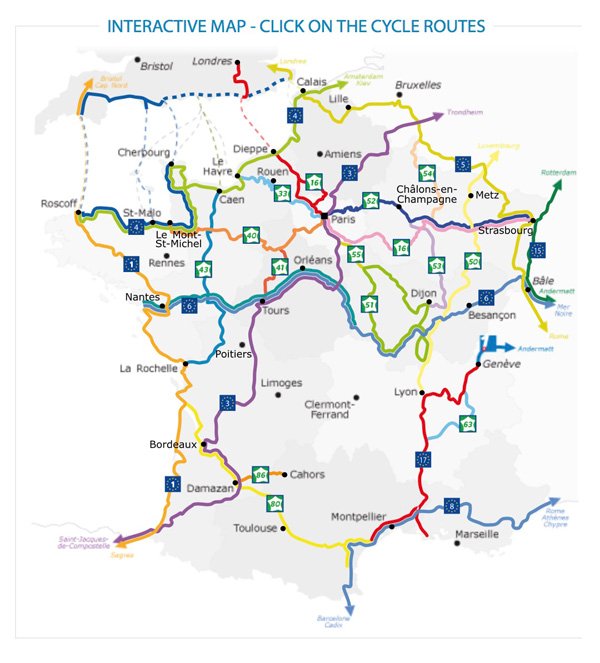 If you click on a route you will find details about it. (See my front page for information on Eurovelo 6 and the Loire.) Some maps do not display properly. For the Veloddysey site or the ViaRhona site, therefore, click on the green box to go directly to that site (and choose English).
I would also caution that parts of many of these routes do not show up on opencyclemaps.org maps, or are on traffic filled roads. Personally, as I like to ride out of traffic, I would suggest in addition to the French routes on this site, some routes out from Paris,the routes across Brittany and down the Atlantic coast, particularly Eurovelo 1.
Map of Long Distance German Bicycle Routes
Below: some major and some minor German bikeroutes:

Germany is cris-crossed with signposted bike routes, some of which are shown in the screen shot above. Many of these have guide-books from Esterbauer (in German) and all the relevant bikeroutes are shown clearly on opencyclemap.org at a medium magnification. A list of German long-distance cycle routes may be found here: https://www.biroto.eu/en/cycle-routes/germany This site also has a map that may be helpful for cycle route selecion in every European country.
Long Distance Bicycle Routes in the Netherlands
I suggest looking at this Internet site: https://www.hollandcyclingroutes.com/online-cycle-route-planner. The following screen shot is taken from their interactive map: