Nature of the Ride:
Burgundy is a large region of 31,500 square kilometers (12,000 square miles, larger than Massachusetts or Maryland and about half the size of Wales), and it contains. a myriad of biking possibilities. You could choose to concentrate your biking on one sector or theme, or as I did, make a large circuit with a variety of themes and countryside. I have included below photos from the circuit that I rode.
Biking distance sign on Burgundy Canal with Chateauneuf-en-Auxois in distance.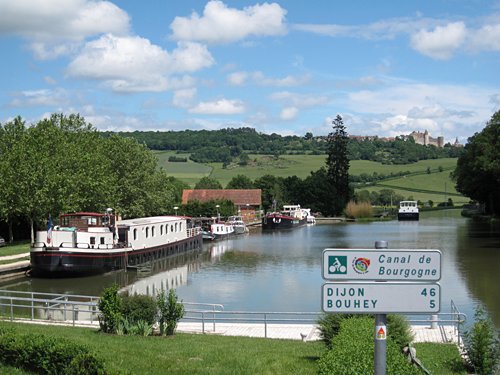 I do not rank Burgundy biking as among the very best European or French biking destinations, though the biking is wonderful. In my personal view, Burgundy cannot compete in architectural or artistic or scenic interest with other French rides described on this site such as the Chateau of the Loire, Provence, Alsace, or the Way of Saint James from Le Puy. That said, you will not be disappointed in Burgundy, particularly if you chose a trip with a variety of landscapes and sights, such as I did.
Among the many possibilities, some biking trips to consider are:
1) Visiting some or all of the major towns of the wine growing region, which extends from Dijon to Macon (114 kilometers or 71 miles). If you ride this, you might detour to see the famous Abbey at Cluny. You should probably be a oenophile to choose this option, as views are repetitive.
2) Riding the 212 kilometer length of the Burgundy Canal (Canal de Bourgogne), probably the most interesting canal of Burgundy, with visits to the sights in the hills above. If you have only five days or a week for riding, and don't mind missing the vineyards, this could be a good alternative.
3) Starting at Avalon or other train station in the area, cycle to Vézelay and Bazoches, then back through Avalon to the Burgundy Canal near Montbard, then on to Dijon and Beaune. This could fill a week to ten days of riding, and would visit many of the interesting points on the full circuit of #5.
4. Making a complete canal circuit of the Burgundy Canal, the Canal du Centre, and the Nivernais Canal, about 580 kilometers (including an off bike path link) or 350 miles. Most of the latter two canals lie in farmland. This trip could take anywhere from five to ten days. I am thinking it might become boring, but then again, riding alongside the canals is lovely. As a variation, you might depart from the waterway between Dijon and Chalon-sur-Saone, and ride through Beaune and the vineyards, about 55 kilometers.
5). As I did on my trip, riding the wine route from Beaune to Chassagne-Montrachet and back (2 nights). Then making a circuit through Autun and the Morvan (2 nights), Vézelay (2 nights), the Burgundy Canal (3 nights), and back to Beaune (1 night, 10 nights total). This could easily have been expanded to a two week trip by visiting more of the Burgundy canal and Dijon.
Dijon and Beaune:
Dijon was, for over 400 years, the capital city of the Dukes of Burgundy, among of the richest and most powerful rulers in Europe. For a brief history of Burgundy, I suggest this article: http://www.britannica.com/EBchecked/topic/85188/Burgundy/253115/History. Dijon's medieval center is well preserved and showcases Burgundian architecture. Be sure and visit the interior of the Ducal Palace.
Beaune is the center of the Burgundian wine industry. It is, therefore, an authentic working town and not one geared to tourism. The Hospices de Beaune, also known as the Hotel-Dieu, should be visited, both to see its glazed-tile roofs and for its medieval interior, which includes a museum featuring a multi-paneled painting of The Last Judgement by Rogier van der Weyden.
Hospices de Beaune.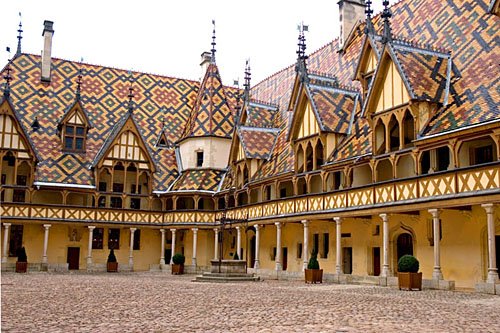 Cycling the Burgundy Vineyards:
Many riders will be most interested in the Burgundy vineyards, and specifically the Côte d'Or area, which includes the Côte de Nuits, north of Beaune, and the Côte de Beaune, to the south. From these vineyards come the most famous wines. A bike route runs from Beaune to Santanay in the Côte de Beaune vineyards. Many of the commercial tours of the vineyards use this bike route, visiting, among other towns, Pommard, Mersault, Puligny-Monrachet and Chassagne-Montrachet. There was never any traffic on the bike route, and the views were lovely. http://www.ot-beaune.fr/pdf-contribute/Veloroute_2010.pdf.
On the Bicycle Route from Beaune: Puligny-Montrachet.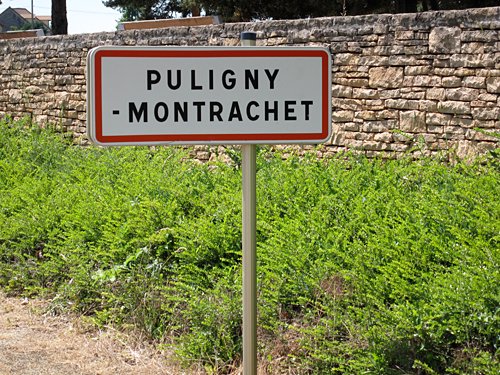 If you want to see the Côte de Nuits between Beaune and Dijon, you may encounter some traffic on minor roads. Maps of the vineyards are available in tourist offices, and also are to be found in large-format books on French wine.
In the vineyards you can stop at many wine tasting rooms along the bike route or elsewhere— if you dare to bike after tasting a dozen wines, Since it would be difficult to carry more than a few bottles on a bicycle, shipping will be the only good option, and this will not be cost-effective unless you buy more expensive wines. The really good Burgundy wines, however, that you might want to have shipped home, are extremely expensive, and most wine tasting cellars will not let you taste higher priced wines because their entire production is pre-sold.
Bicycle route from Beaune to Santanay, vineyards and town.
Because there isn't that much to see in the vineyards — rows of grapes growing, neatly manicured, on slightly sloped hillsides — and because the vineyards of the great-names look exactly like those of the lesser crus, one day among the vines sufficed for me. Most of the commercial tours I have looked at also allow one day, but there are some tours that dedicate their entire time to the wine area.
Cycling to Autun, the Morvan, Bazoches and Vézelay:
Fifty-five kilometers from Beaune by the main highway lies Autun, an attractive large town with important Roman ruins. There are several low-traffic ways out of Beaune that add about 20 km to the ride.. (I chose to ride through Saint Romain, Epinac, and Saint Léger-du-Bois.)
The Roman amphitheater in Autun, Burgundy.
The Morvan region of Burgundy consists of forested high hills and lakes. Cycling there requires short stretches of moderate to difficult climbing. There are many possible light-traffic routes through the area. Pick your route. I stayed at the first night out of Beaune at the Auberge de la Chaloire in La Petite Verrière, and the second one in the attractive town of Lormes. An easy-going rider might choose to spend a night in Autun.
Entering the Morvan from Autun.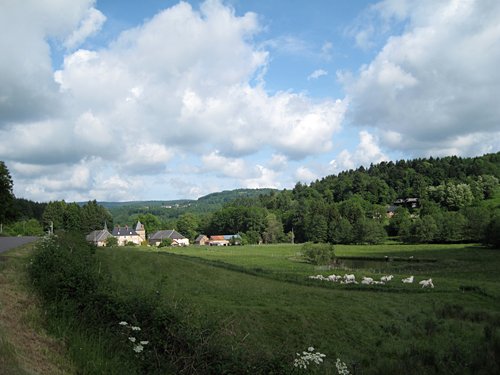 "Well" welcoming the rider to Ouroux-en-Morvan.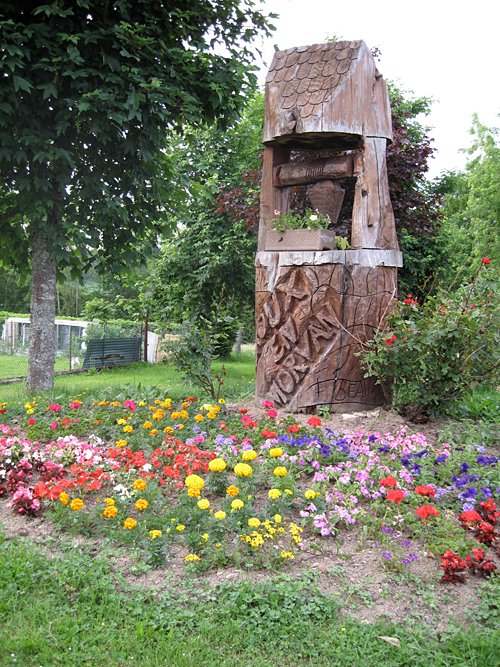 Lormes, in the Morvan Region of Burgundy.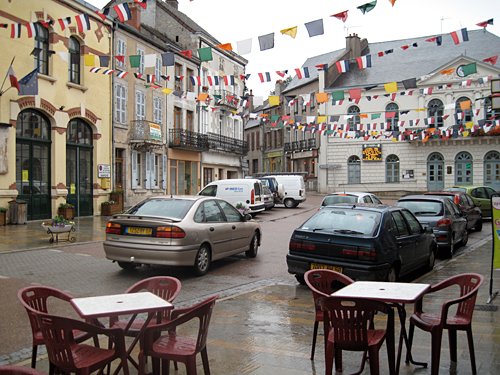 Just north of the Morvan forest is the Chateau of Bazoches-du-Morvan, which belonged to Vauban -- the great French military architect. It is well-preserved, with original furnishings and paintings, and information on Vauban's military designs. I strongly recommend a visit if you are nearby.
A room in the Chateau de Bazoches, home of Vauban.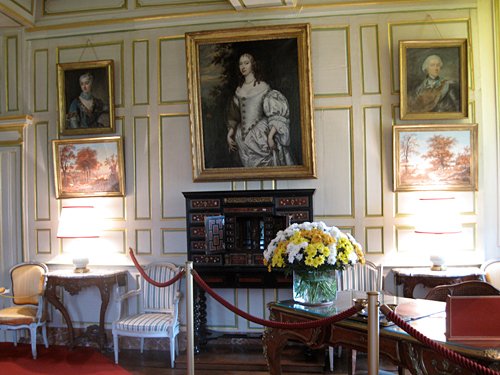 View from the Chateau de Bazoches — Vauban's home.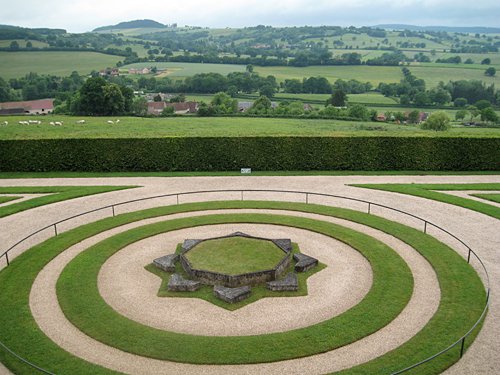 From Bazoches, it is only 11 km to Vézelay. Vézelay, is the start on one of France's four signposted Compostela pilgrimage routes. It is a quaint little town on a steep hillside, atop which sits the largest Romanesque church, (basilica) in France. The Vézelay basilica is often referred to as a cathedral, but is not. The church was sacked in the 16th century, and has little in the way of paintings or sculpture, but is still quite impressive and worth seeing. Many find it awesome. For a good, brief history in English, see: http://www.sacred-destinations.com/france/vezelay-church.
View of the Basilica of Vézelay.
It is an easy day's ride from Vézelay, through the attractive major market town of Avalon, to the Burgundy Canal.
Cycling the Burgundy Canal:
The Burgundy Canal and its nearby hills could easily be an entire bike trip. A bike trail, 212 kilometers long (about 130 miles), runs the length of the Burgundy Canal,. The surface, mainly of compacted dirt, is generally smooth, but there are a few short rough spots where, if you are riding on 28 mm or less wide tires, you will want to walk your bike. There are numerous interesting sights along the canal, and in the hills above the canal. See this site for a list of some of them http://www.burgundy-canal.com. For researching tourist sights, I recommend getting hold of a good Burgundy map, and then checking sites along the Canal on the web.
Bike path alongside the Burgundy Canal (Canal de Bourgogne).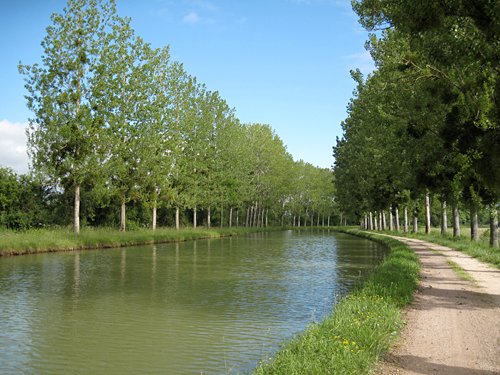 I joined the Canal just north of Montbard and left it where it turns north towards Dijon. I can recommend visits to the Forges of Buffon, the Abbey of Fontenay, the Chateau de Bussy-Rabutin, the town of Pouilly-en-Auxois, and the perched village of Chateauneuf.-en-Auxois. The town of Flavigny sur Ozerain, which I visited, has some charm, but is no way as charming as the scenes in the movie Chocolat, which used fake façades, and was often filmed in England. Above the canal, on Mount Auxois above Veneray-Les-Laumes lies the site of the battle in which Julius Caesar defeated Vercingetorix — Alesia (today called Alise-Sainte-Reine) — and completed his conquest of Gaul.
Forge of Buffon, founded in 1768 to produce cannons and other cast iron products.
Cistercian Abbey of Fontenay, founded 1118, and recently restored.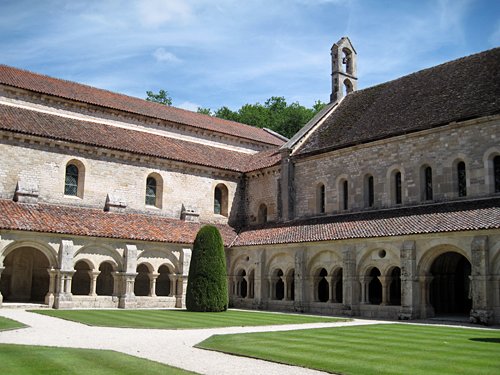 Farmland above (east) of the Burgundy Canal near Fontenay.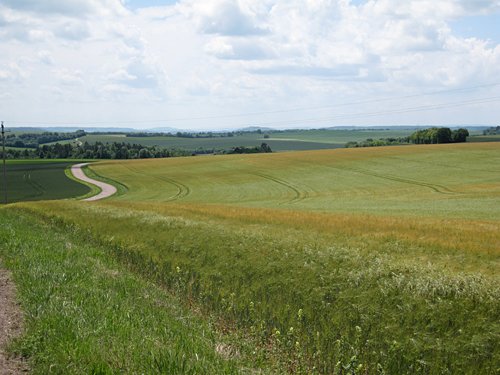 Chateau of Bussy-Rabutin.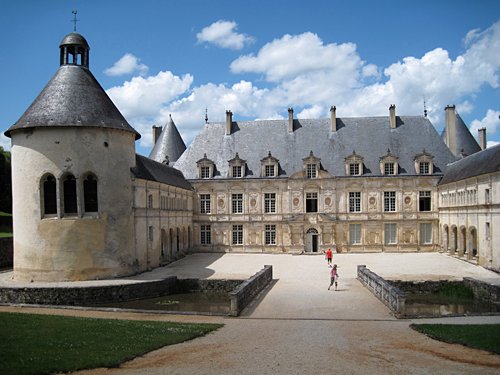 Cycling along the Burgundy Canal is a pleasure in itself. The canal is lined with shade trees and because of the climb and then descent of the waterway, there are locks with little houses every few miles. The cycling on the bike path is easy, and the views of the nearby countryside and the ribbon of the canal ahead of you are splendid. At the top of its climb, at Pouilly-en-Auxois, the canal passes into a tunnel 3.3 kilometers long. Constructed in 1775, it took barges of the time 10 hours to be carried through by a gentle flow of water.
View of Chateauneuf-en-Auxois.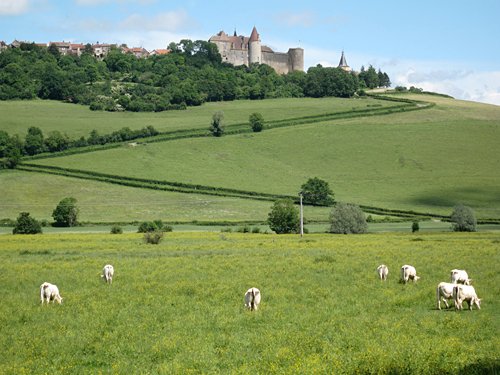 Sharp curve in the Burgundy Canal with cyclist in distance.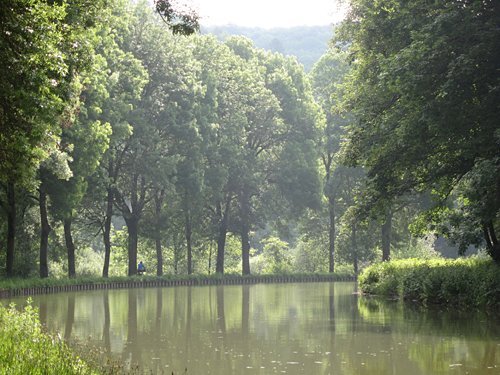 Many commercial bicycle tours spend a short stretch of one day along the Burgundy Canal, climbing to Chateauneuf-en-Auxois. That is a wonderful site, and a short stretch of canal is better than nothing, but if you organize your trip yourself, I would urge a full day or two, at least, along the canal.
Planning your trip:
Many bicycle touring companies offer Burgundy tours of five days to one week. Most often these tours offer a couple of days in Beaune and the vineyards, and then a circuit through the hills and lesser-known vineyards above Beaune and then to Chateauneuf-en-Auxois, with a day along the Burgundy canal nearby. But there are tour operators who will organize a longer tour. For information, make an Internet search on "Cycling Burgundy, or" Bicycle Tours".
Burgundy weather is warm in the afternoons from May through September, and thus these are the best months for cycling. Some rain can be expected every few days, totalling about 6 to 8 centimeters (2 to 3 inches) a month. If possible, allow a rain day or two, and arrange for some flexibility in your arrangements.
If you are interested in following a series of bike rides that have been ridden before and written up into detailed cue sheets, as well as reading a bit of history of places on these routes and seeing some more good quality photographs of the Burgundy region, then you might want to buy the cue sheet sets (complete with elevations and waypoints)or the book by Walter Judson Moore, available on Amazon. This book also provides step by step directions for getting from the the Paris airport to Burgundy, and espouses a philosophy of touring based upon renting a car and a cottage for a week and riding in nearby areas.
Another alternative, is to use RidewithGPS.com for its many photos, maps and waypoints.
Bike Rental: There are several bike rental companies in Beaune that have a good selection of hybrid and e-bikes suitable for a multi-day tour.