France: The Loire à Vélo and French Eurovélo 6
Switzerland , Germany, Austria (opens new window)
Slovakia and Hungary: (To be added later.)
To the Black Sea: (To be added later. )
France: The Loire à Velo and French Eurovélo 6
Please follow this link for an explanation of traffic ratings.
"Vélo" means "bike" in French.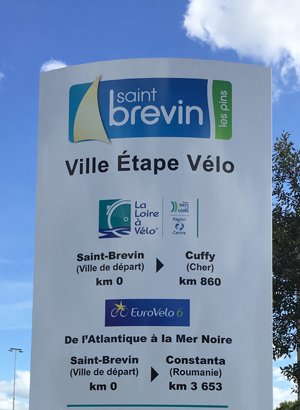 Start: St. Nazaire Railway Station or La Baule.
End: Railway Stations in Tours, Blois, Orleans, Nevers, Chalons-sur-Saône, Basel, and many, many other towns and cities.
Distance: As wished. About 400 kilometers from Saint-Nazaire to Tours ( 240 miles), about 530 kilometers to Orleans (320 miles), about 860 kilometers (535 miles) to the end of LLAV signposted route at Cuffy near Nevers, about 1,200 kilometers (750 miles) to the headwaters of the Loire, about 2,500 kilometers (1,500 miles) to Budapest, and about 3,700 kilometers (2,300 miles) to the Black Sea. The above are highly approximate. Actual distances will depend on whether you stay on bike routes or take the direct highway routes, which sights you visit, and so on.
Hills: Almost none. The mainexception is the ride from the Rhine River (Lake Constance, know in German as the Bodensee) to the Danube, which requires a steep 2,400 foot climb
Transportation: With only a few exceptions, trains serve the entire route from the Atlantic to Budapest. At this writing I have not researched beyond Budapest. River boats that carry bicycles ply much of the Danube below Regensberg, Germany.
This discussion is for: A cyclist, or a group of reasonably fit cyclists who would like to take a longer, self-contained. self-organized bike trip, passing through several different regions of France, and perhaps into Switzerland or Germany or beyond. The author has, as of this writing, ridden from the Atlantic at the mouth of the Loire in France to Ülm on the Danube in Germany.
The Eurovelo 6 a.k.a Loire à Velo is now also accessible to families and inexperienced cyclists. They will stick to the Loire à Vélo route (discussed below), where there is rarely any traffic or need for route-finding. They may choose to follow the route for only a few days. For these riders, my suggested shortcuts, variations and timetables discusssed below are probably irrelevant. The Loire à Vélo web site and the Eurovélo web site have most of the information you need for planning your trip, though I offer some tips here, and would strongly suggest that you read about the history and most important sights along the Loire on Part I of this sites pages on biking the Loire Chateau region.
Which Direction to Ride In:
I recommend that you start at the Atlantic Ocean, and ride eastward. (The grade is unnoticeable, less than 1/10 of a percent. Why? First, you will most often have the prevailing winds at your back. Because one guide book says the opposite, I've just double checked: Along the East-West portions of the Loire, the wind in July and August almost always comes from the west, and can often attain as much as 20 or 25 km per hour. In June and September the wind is somewhat more often from the East, but less strong than when it comes from the west. On the north-south part of the Loire route, the winds habitually come from the north, so it is again better to be upstream – south. It is also better to be riding upsteam, that is, to the east, along the Eurovelo 6 route in Burgundy and the Jura, if you are continuing on Eurovélo 6. And if you are continuing further to the east on the Eurovelo 6, in Switzerland, Germany or Austria, for example, the winds are not usually a significant factor, but can be stronger when blowing from the west.) My personal experience confirms these remarks.
Second, since you will probably start most days long after the sun has risen, you will have the sun at your back when you ride in the early afternoon .
Third, assuming that the duration of your point-to-point bike trip along the Loire or the French Eurovelo 6 will be limited to a week or two, you will visit the most exciting tourist sights and chateaux, which you would not do riding the entire route of the Loire à Vélo in the opposite direction. Of course, if you start cycling west from Orleans or Blois, this does not apply. And if you are cycling in mid-summer, there is something to be said for finishing your tour at the beach in La Baule.
All of the guide books and on-line itinerariies for the Loire and the French portion of Eurovélo 6 (from Basel to Nevers) assume that you will ride to the west – contrary to what I recommend here. However, all the Danube guidebooks assume you will ride to the east! Why? I dont know. Perhaps it is traditional to ride downstream!
Roughly one-half of the Eurovèlo 6 route in France is known as "La Loire à Vélo (henceforth often abbreviated here as "LLAV"):
Beyond LLAV designation portion of the Eurovèlo 6 in France, the Eurovèlo 6 continues 135 kilometers south along the Loire, before turning northeast along the Canal du Centre.
French authorities have almost finished the long-distance, signposted, bike-friendly bike route along the Loire (inspired by the Danube bike route in Austria) called "La Loire à Vélo" (the Loire by bike). (Because the first L in LLAV means "the" I don't use the word "the" before the name.) The latest information, found in the Loire a Velo Site (www.loireavelo.fr or in English www.cycling-loire.com) gives the following statistics: The route is 37% on roads with little traffic (under 500 cars a day), 27% on paved bicycle greenways, 24% on non-through roads, and 12% on cycle lanes and tracks. Adding up the percentages, it would seem that none of it is on busy roads, but in fact there are a few miniscule sections that are. In 2016 there were a few portions where the construction of cycle paths is not finished; so longer, provisional routes are provided. LLAV site states that over 800,000 cyclists use some part of the route each year, many of whom are tourist, and of the tourists, one-third are foreigners, mainly Europeans.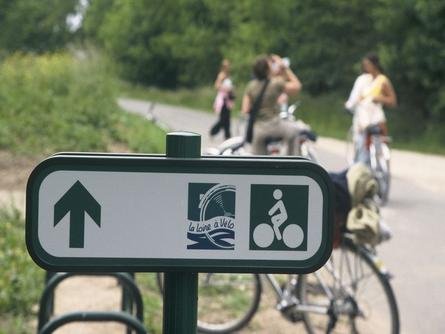 The photo above shows the signpost that indicates the route: However certain regions have chosen to used different signs, and some signs just show maps that you are supposed to follow.
This link will open for you in a new Engllish language window a Google-style map of the entire LLAV route, showing by different colors the type of roads or paths it uses:https://www.loirebybike.co.uk/map-of-the-route-la-loire-a-velo (slow to load). Click on the green box with the two white arrows to make the map fill the window, and use it to plan your trip. Based upon my study of maps, and the experience of my recent trip (May, 2016), I believe that in general you should follow LLAV route.
There are pages on the web site which list lodgings along the way, bike rentals, companies that transport baggage or guide tours, guidebooks, and so on. I believe a guidebook is essential. See the discussion below.
The one weakness I find in LLAV site is that no distances are shown. You can find those distances, as well as easy lodging and other information information on the Eurovelo 6 site: http://en.eurovelo6-france.com. If you are planning your day, you should not use the total distances for each segment, but rather add up the kilometers shown on the maps. Strangely, in many instances, the EV sitesite gives total distances for a group of segments are more than the sum of the individual segments by up to 10 %. I've checked some of the individual segments against maps and guidebooks, and believe they are the most accurate than the overall distances, but they are not entirely accurate. They differ slightly form the guide books, which also differ slightly among themselves. Don't worry to much about it; the discrepancies are no more than 5%.
In addition, both of the above on-line sites suffer from not including variations that visit important chateaux. I suggest that you use the site www.viamichelin.fr to plan how you will use minor roads. Make the map full screen and zoom in several times until you see a little face appear on the lower right. Clicking this will bring up a proper Michelin road map in a new window. Print out the portions that you need. The underlined towns have lodgings that are mentioned in the Michelin Red Guide. (Unfortunately, the present Michelin maps for purchasein stores are, in my opinion, too large and heavy for biking). For planning lodging I typically use Trip Advisor or other web sites.
A map of biking routes is also available from the Blois tourist office and some others in the same area, called "Les Chateaux à Vélo" (Chateaux by Bike). This covers the Chaumont, Cheverny, Chambord and Blois castles. Some of the bike routes are quite circuitous, or unnecessarily on dirt roads, when low traffic, more direct roads are nearby; look carefully at the little triangles on the routes, and, in my opinion, avoid the tan colored sections. You can download all or parts of this map at this address: http://www.chateauxavelo.com/partager-telecharger/brochures.
Angers Chateau: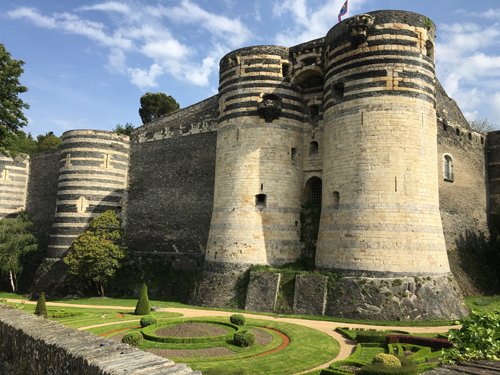 Based upon my 2016 ride on LLAV, and previous, multiple trips to the area, I would suggest that, in general, you follow LLAV when you ride in the area. But there are exceptions:
(1) I wou add a day or two before you begin the LLAV route at La Baule or nearby. This southwesternmost corner of Brittany iis a wonderful contrast to the rest of the trip, with its beach, victorian architecture, and seafood-based cuisine. You can ride for 23 km along the beach to the Saint-Nazaire train station or take the train from La Baule to Saint-Nazaire in 15 minutes. It is also more convenient to spend a night there: Coming from Paris, if you take a TGV from Paris to St. Nazaire to start the same day, and if you find space for your bike on the earliest train, you won't actually get to the starting point of LLAV until afternoon. If you first go to La Baule the day before, you can get an early start the next morning (or, I suggest below, the morning thereafter).
(2) In the chateau district, the "La Loire à Vélo" route does not provide the best access from one Chateau to another; and doesn't connect to one of the most interesting chaâteaux, Chevernay. Before planning your route, I strongly suggest you study the iteneraries in the section of this site on cycling in the Loire Valley: Part II of the Loire, and also read up on the iportant chateaux in Part I of those pages. It would be a great shame to miss some of these wonders. Generally speaking, if you stick to the white roads on a Michelin map you will have very little traffic.
3) After the Chateau of Chambord, I recommend riding cross-country on a route that leaves and rejoins the Loire, to visit Bourges*** (missing Orleans* and the northern loop of the Loire). It involves always riding on minor roads rather than some greenways, but it saves two or three riding days and visits Bourges, which is an especially nice small town. On the other hand, you will spend a day traversing a very dull forest and a good part of another crossing farmland. I have visited by bike Orleans and the other towns along the Loire loop, and in my opinion, Bourge (and the garden at Apremont-sur-Allier on the way, outdoes them. This option is explained in the last section of this page.
(4)The headwaters of the Loire can be visited if you want the complete picture of the Loire, and there is one outstanding town along the way, Le Puy-en-Velay***. Some details are provided below.
Eurovélo 6–The Cross Europe Cycling Route (General Information):
Eurovélo 6 is the first cross Europe bicycle itinerary to be completed, and, in my opinion, possibly the most rewarding route. I had already ridden much of the route before the creation of the Loire à Vélo.. It coincides with the LLAV as far as Nevers then continues south along the Loire, then crosses Burgundy and Jura, to Basel (Switzerland), from which it follows the Rhine and the Danube, through Germany, Austria, and Hungary to Budapest; another few weeks of riding will take you to the Black Sea. The total biking distance from the Atlantic to Budapest, without side trips, is roughly 1,500 miles (2,500 kilometers) and another 700 miles (1,100) km to the Black Sea.
Thiis is the Euroveol 6 web site for all countries: http://www.eurovelo.com/en/eurovelos/eurovelo-6.
The salt flats of Guerlande, near La Baule, before the start of La Loire à Vélo: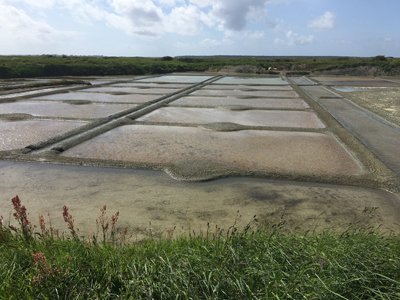 Le Loire à Vélo and Eurovélo 6 Maps and Guide Books:
To make your trip go smoothly, I strongly suggest you purchase a guide book. See the details in the next paragraph. If you do not purchase one, take some screen shots of Internet maps, such as the Loire à Vélo map or French Eurovélo mapsreferenced above or a map from bikemap.net (the use of that site is described in this site's sction on maps); or, in general more useful, purchase some detailed maps and trace the route onto it – such as Michelin regional maps at 1:200,000 or IGN maps at 1:100,000. During my 2016 trip, in which I and my riding partner followed the Loire à Vélo route from the Atlantic as Tours (and later-on, partially from Nevers), we got temporarly lost perhaps ten times, partly because we missed signs that were badly located or that we just didn't see, partly because, near Nantes the signs are very sparce and confusing. Our guidebook maps let us know that we had gone wrong and we were able to go back to the last visable sign, but in two cases, in Nantes and in Tours, had to ask for help. (In 2017, our second year on the EV6, we also lost track of the route signs on several occasions, and the maps of our guidebook were useful.)
To my knowledge, no guide book for LLAV or the rest of the French Eurovèlo 6 is available in English. There are, however two useful guidebooksfor the Loire à Vélo, one in German and one in French. Both books are wire bound, so that pages can be removed and placed in a plastic pocket atop a handlebar bag. I removed the pages from the binding before the trip and clipped the pages in order in metal clips.
In German, there is the "Loire-Radweg Von Nevers zum Atlantik (160 pages, weight: 253 grams = 8.93 ounces; size open: 12 x 22.5 x 1.2 centimeters =4.73 x 8.86 x 0.47 inches), published by Esterbauer. In French there is "La Loire à Velo de Nevers `a l'Atlantique (120 pages, weight: 170 grams = 6 ounces; size open: 14 x 21 x 0.9 centimeters = 5.52 x 8.27 x 0.35 inches, width without cover: 11.2 cm = 4.41 in). Either can be ordered on Amazon and some travel bookstores.
The advantages of the German book are: It's pages are waterproof and the French guidebook pages arent. 2) The maps are larger and also easier to read; the scale is 1:75,000 as opposed to in the French guidebook 1:100:000 and sometimes 1:125,000 or 1:150,000. 3) The maps of the cities, such as Tours, are larger and somewhat easier to read, with more information. 4) The guidebook includes maps covering the variation to Chenonceaux and an unofficial(?) variation to Cheverny. 5) It distinguishes between greenways, bike paths and bike lanes, whereas the French book subsumes all three under a "not shared lane" category; and it distinguishes higher-traffic roads from calm roads, whereas the French guidebook does not. 6) If you have eagle eyes, or get out your magnifying glass, the German book map key, in miniscule type, has English transllations of all the symbols.( However the labels on the French maps are almost all comprehensible variant spellings of English.) 7) The German book lists 2 to 5 times as many hotels, but I find the lists in both books to be insufficient. (I suggest researching hotels, b&bs and rooms with a computer, tablet or smart phone.)
The disadvantages of the German guidebook are: 1) the pages are somewhat heavier and there are more of them; 2) it has no summary miles shown per page - you have to add the miles up; 3) it has fewer photographs, less tourist and cultural information (but if one collects one's tourist and cultural information from the Internet, that is unimportant).
Writing now, just after my 2016 cycle trip on the Loire using the French guidebook, and having again examined the German guidebook, I regret not using the German guidebook – because of the clarity of its maps – which might well have prevented us from getting lost. (We never consulted the text of our guidebook for tourist or cultural information, so that was irrelevant.
The only guidebook for the continuation on Eurovélo 6 (from Cuffy-Nevers to Basel), is in French "EuroVélo 6 de Bale à Nevers" (Bale is French for Basel), published by Chamina, similar though less thick than the book mentioned above. I provide maps below for the continuation in Switzerland, and for the Danube from its source to the black sea there are four guidebooks in English, "The Danube Bike Trail" published by Esterbauer. Their format is similar to their guidebook for the Loire in German mentioned above.
At the end of this page I provide some maps that I have downloaded for the section of the Eurovélo 6 route between Basel and the Danube; they not in any of the above guidebooks.
For those who read French, or who like photos, the following coffee table book, available from Amazon, describes and illustrates all the stages of Eurovélo 6: "De Nantes à Budapest, la plus longue piste cyclable du monde".
Which Chateaux to visit? Book Lodgings in Advance?
There are so many chateaux to chose from that surely it will become too boring to visit them all on a point to point trip. See my Loire Valley Part 1 for recommendations and information, and for reviews by visitors, you might visit the Trip Advisor pages on Loire Valley sights. If you are reserving your lodgings in advance, you need to take a good look at your choices while you are planning your itinerary.
Should you reserve your lodging in advance if you are hotel-B&B touring? In my experience, most of the choicest lodgings are booked months in advance but usually there are some decent hotel and B&B choices at the last minute. Personally, as an older rider, I don't wish to arrive in a town and need to look for lodging. Also, by booking in advance you may discover that prices are far higher during certain periods, such as ArtBasel in Basel, Switzerland, and plan your trip to avoid these periods. I have no knowledge about booking campsites.
Immediately below you will find a rough itinerary to ride the Eurovelo 6, that is, La Loire à Velo from the mouth of the Loire to Dignoin. The itinerary assumes you are a reasonablly fit Cyclist, not riding with children, who would not mind riding occasionally on a low traffic highway deviating from LLAV, and would like to visit the important architectural and artistic treasures of the Loire Valley. The itinerary assumes that on flat ground on good surfaces you can ride 20 kilometers per hour (12 miles per hour), so if you cover 70 kilometers, you would be in the saddle three and one-half hours each day, and will spend the rest of the time visiting chateaux, sightseeing, or relaxing. Following the rough itinerary, there is extended itinerary commentary and suggestions, including sights in La Baule*** and nearby, the possibility of cutting across-country through the center of France to save a couple of days of riding, a routing to the headwaters of the Loire, and a discussion of the continuation across Burgundy on Eurovelo 6 and beyond.
The Saumur Chateau at dusk.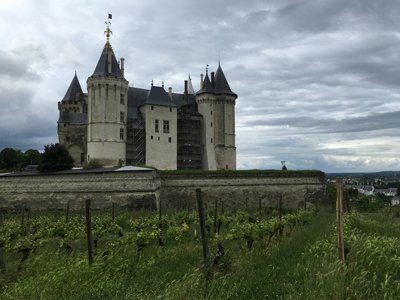 A Rough Itinerary from the Atlantic to Orleans or Nevers:
Day 0 and before: La Baule***, Saint-Nazaire, or train and bus or taxi to Le Pellerin.
Day 1: Cycle to Nantes*** (from Saint-Lazaire, a bus or taxi to the south shore (or a 7 km ride over the Loire bridge) plus 61 km on LLAV route. This would be one of the longest cycling days, but there is no chateau or art treasure along the route. From La Baule, and assuming you take a bus or cab across the Loire bridge) you would be riding about 85 km.
Day 2 and Day 3: To (Angers*** (about 106 km from Nantes) following LLAV, spending one night in Champtoceaux or Ancenis. If you are a strong rider and do this in one day, you should take a rest day in Angers to see its sights.
Day 4: To Saumur** (about 58 km)..
Day 5: To Chinon*** via Fontvaraud** (about 35or 40 km, depending on route); or continue to near Ussé**, shortening the follwing day to allow time in Tours.
Day 6: To near Ussé** (but bypass Chateau to save time), then to Azay-le-Rideau***(about30km) (definitely omit until 2017 or 2018 as it is under repairs, and probably worth seeing thereafter, but perhaps omit to leave time to visit Tours more extensively). and then Villandy***and on to Tours** (about 61 km in total, 52 km if Azay is omitted)
Day 7, first alternative: To Amboise** (two chateau**, visit one of them) (21 km) to Chenonceaux*** by bike lanes and quiet roads off LLAV route, (33 km) to Chaumont** or Blois**(80 km total).
Day 8: Rest day in Blois and see the chateau and town
Day 9: Visit Cheverny*** (not on the LLAV route) and Chambord***. Cycle to Orléans (a total of about 69 km) or to a train station before.
Day 7, Second alternative: To Amboise** (two chateau**, visit perhaps both of them) (21 km) to Chenonceaux*** by bike lanes and quiet roads off LLAV route, (33 km). Stay near Chenonceaux***.
Day 8: Ride to Cheverny*** (not on the LLAV route) and Chambord***, and continue toChaumont** or Blois**.
Day 9: Visit Blois and cycle to Orléans* or take the train home.
Day 10 and after: Follow LLAV. It is about 203 km by LLAV from Orleans* to Nevers* and add 9 km more for the visit to Apremont-sur-Allier,(say three days of riding, so you would arrive on the 14th night). It is about 136 kilometers more to reach Dignon, where Eurovélo 6 turns east.
See my directions at the bottome of this page to cycle through Bourges*** and save several days of riding if you are heading to Nevers or further south.
Headwaters of the Loire: If your objective is to ride the entire length of the Loire river, from Dignon it is about 70 km to reach Roanne, another 50 to 80 km to Mount Brison, depending upon route, and 110 more very hilly kilometersby back roads along the Loire to Le Puy-en-Velay***. From Le Puy, it is about 70 km to the headwaters of the Loire, and then you could continue with a long downhill into Provence***, and possibly to the Mediterranean..
Since a detailed commentary on the bicycling itinerary is quite long, I have divided my detailed discussion into several subsections.
Sections of the detailed commentary:
The Atlantic and Lower Loire Valley:
The Chateaux Region of the Loire:
The Loire from Orleans to Digoin:
Crossing France and Europe on Eurovélo 6:
Cutting Across Country from the Chateaux to Eurovélo 6

The names, and photographs of the best châteaux and descriptions of the best towns, may be found in Part I of the webpages on the cycling the Loire Chateaux Region.
The Atlantic and Lower Loire Valley:
Arrive by train in La Baule***, a Victorian seaside town with a wide, beach.
You may wonder why I have included La Baule—a town that isn't on the Loire—in this itinerary. The answer is multifold: First, that La Baule is only a 15 minute train ride, or 25 km by bicycle, to Saint-Nazaire, and that it is the closest big attractive town before the mouth of the Loire so that it provides a wide choice of lodging and restaurants, which is not true at the actual mouth of the river. Second, that La Baule and its region feel entirely different than anywhere on the Loire itself, and that will expand your understanding of France. And, third, that I personally have much enjoyed the town, its fish and shell fish cuisine, and surrounding villages, and would like for you to experience them.
By catching a pre-8:00 am train from La Baule, you can catch the morning bus across the Loire, and be on LLAV by 9 am, whereas arriving from Paris you will not be on LLAV until midday at the earliest.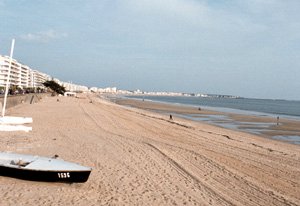 Please see the description of La Baule*** under "Best Towns and Cities" on page one of the Loire Valley article. There are two luxurious hotels, and many others, as well as a one star restaurant. You have a choice of 25 campgrounds nearby. I suggest that you stay two nights, and bike out to the salt flats and to Pornichet.
The photos below wer taken on a loop tour around La Baule, described on the first Loire Page.
A thached home in Kirnet: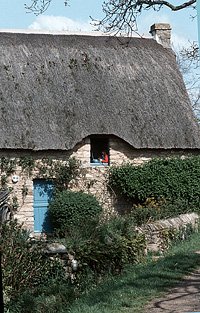 From La Baule to Saint-Nazaire:
As this "stage" is not covered by the LLAV or Eurovélo 6 web sites, I am providing a map below. You will find the route described in either of the guidebooks mentioned above. It is roughly 23 km from the center of La-Baule to the train station in Saint-Nazaire.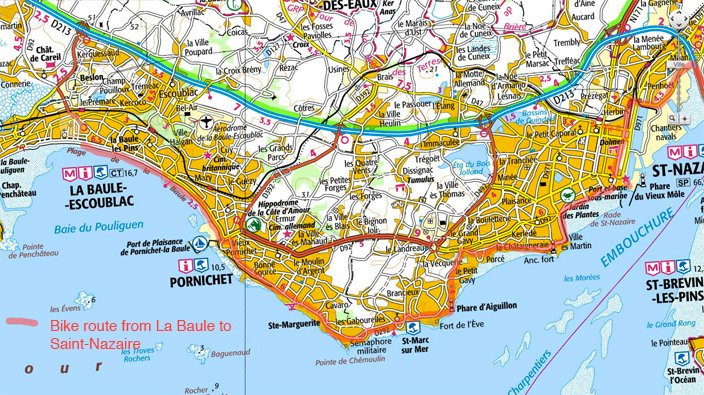 Using Google Roadside views, I have looked at sections of this route , and it appears to be delightful riding. Green arrows on the street mark much of the way. From La Baule, follow the beach in bike lanes; upon reaching Pornichet, continue straight ahead in bike lanes along the shore. When the bike lanes come to an end at a traffic circle (about 5 km from central La Baule), you must turn left (bike lane after the traffic circle) and when, after a couple of tiny blocks, this road bears left, take a right into a minor road (at this writing a Century 21 is on the right side at this intersection. Follow this road as it curves back and forth, almost entirely in residential areas, all the way to highway D92, a major road where you wil encounter stop light (perhaps 14 km from La Baule). Turn right on D92 in a bike lane, and bear right at the first intersection, the Chemin de Porcé, which follows the ocean all the way into Saint-Nazaire. At a bassin in Saint-Nazaire, you cross a little bridge (if it is open), ride to the end, turn left, follow to the end, turn left again and cross another bridge to just north of where you were before the first little bridge, heading in the opposite direction. Ride past the warehouse on the right to the first major thoroughfare and turn right bordering the basin (bike lane). At the stoplight (before "Idea) turn left (bike lane), and in one block at the traffic circle (by "Rexel") turn right.
To reach the bus terminal in front of the train station, just after the huge tanks on the right, turn left and ride about five blocks.
To reach the Saint-Nazaire bridge (in about 3 km), continue straight until you cross train tracks (at street level), and immediately turn right onto a graveled path (green arrows). This leads in a few blocks to a bicycle bridg over the tracks. Coming off the bridge, turn right and ride to the traffic circle, at which you will bear left (green arrows, bike lane) and ride to another traffic circle where you get on the bridge. It is a climb to the middle of the bridge. There are joints in the bridge and possible cross winds. It is 5 km across. Only very experienced riders should consider riding across as there is no bike lane and fast, heavy traffic.
From St-Nazaire to Nantes:
The Saint-Nazaire bridge viewed from Saint-Brevin: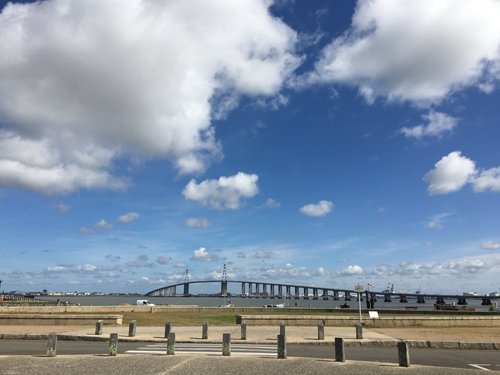 If you are taking the LLAV route to Nantes, the Saint Nazaire bridge can be ridden accross in a bike lane, but, for reasons described in the previous paragraph, this should be avoided by unstable or weak riders or in windy weather. There is bus service from the St-Nazaire train station (line 17) to St-Brevin-les-Pins seven times daily (three times on Sundays and holidays); the buses have racks for eight bicycles. To reserve a bike space you must call, at least a day in advance, 02 40 21 50 87. The reservation office is open from 9 am to 4 pm Monday through Thursday, and only to noon on firday. If you don't have a reservation, off season you can take your chances. Most riders are ending (rather than beginning) at Saint-Brevin. Therefore reservations from Saint-Brevin are highly recommended. For schedules, see the bus Internet site: http://lila.loire-atlantique.fr/jcms/lignes-lila/les-horaires/les-fiches-horaires/lila-lignes-regulieres-les-fiches-horaires-fr-dev_6272?portal=dev_5205&category=p2_8390 and click on Line 17 for the summer or other period. As the weather may turn out to be windy, and since bus reservations are required, it would be best to plan to take the bus. As I write in July 2015, the buses leave the Saint Nazaire rail station at 07:37 am, 8:37 am, 1:07 pm, 4:19 pm and 5:17 pm; and on Sundays and holidays, at 10:00 am, 1:52 pm and 6:07 pm.
There is also taxi service. Saint-Brevin Taxi can can dispatch a cab that carries up to four bicycles. (Telephone 02 40 27 33 07.) In May 2015 their price for a pick-up at the brodge for up to four bikes and bridge crossing was about €20, €5 more if the pickup is at the railroad station. If cycling from La Baule or arriving on the first TGV from Paris, it would be tempting to use this service, because there is no mid-morning bus except on Sundays and holidays.
Follow LLAV to Nantes. Take the ferry across to the north shore route (the south shore route is hilly and confusing), and be sure to bypass the next ferry which goes back to the south shore.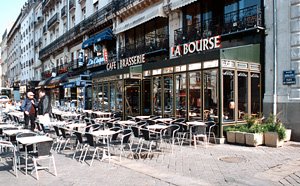 Nantes*** is a large city of 250,000 inhabitants, and a major port. It has a large selection of hotels and restaurants. There is also a youth hostel and a campground, accessible by bike lanes. The tourist office, just off your route through town, on the left in a square old building across from a plaza, can provide biking maps and directions.. The ducal palace, the cathedral and the Passage Pommeraye (an elegant19th century shopping mall) are three of the most important sights.
From Nantes to Angers (about 106 km):
From Nantes the best alternative is simply to follow the LLAV signposted itinerary to Angers. Unless you are up for a very long ride, this takes two days. (If you do it in one day, take a rest day in Angers.) You could stay in Champtoceux*,which has a fine site, a nice promenade with views, several hotels, a campground, and a Michelin one star restaurant or in Ancenis, just after, that has many lodging choices.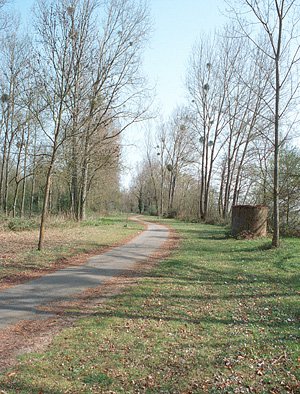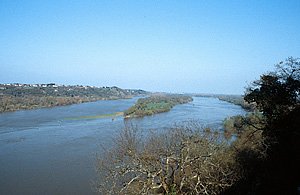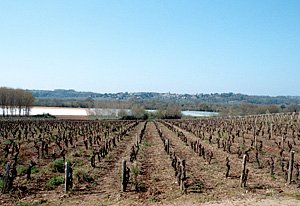 A branch of the official route bypasses Angers, but I certainly would not do so. The Apocalypse Tapestry in the imposing Chateau is a must see for anyone who cares about art, and the rest of the town is charming. Arrive early and spend the day and night. The LLAV route follows along the north side of the Maine, a Loire Tributary. When you turn right and cross the Maine into Angers, you are at the Château of Angers***. The tourist is just behind it. See just below for more information.

The Châteaux Region of the Loire: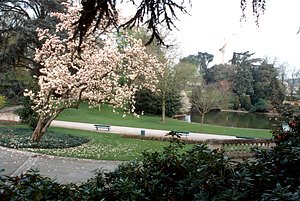 Angers*** (many hotels and a campground across the Maine river) is a charming city with incredible textile art treasures. The Château, described under "Best Chateaux", contains the Apocalypse Tapestry, the oldest, largest, and in some ways the best tapestry in the world — a great masterpiece in my opinion. It is 15 feet high and runs the length of a football field. (Note: The much older wonderful "tapestry" in Bayeux is not a tapestry at all but an embroidery.) Many other wonderful tapestries are on display in another part of the castle. If you like art, the author highly recommends spending two hours in the Château seeing these unbelievable and ancient tapestries. The old-town and shopping areas of Angers are quaint.
Apocalypse Tapestries: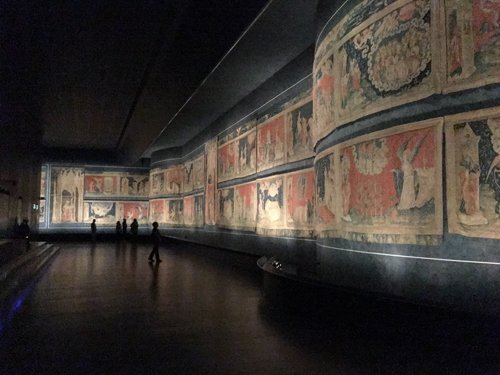 To leave Angers, take the main road that runs by the Château in a southeastward direction. After three blocks turn left on Boulevard du Marechal Foch and in three blocks turn right on Rue Hannaeloup (all the official LLAV itinerary). Just after the Autoroutethe LLAV route turns left to follow a meandering bike route. It would be much faster, if traffic is not heavy, to stay straight. At the traffic circle this becomes D117.The bike path joins into D117 just after another traffic circle, and then branches off to the left again. Near Trelazé, if you don't spot much traffic, taking the nearby highway D952 will be much faster than the LLAV route. The bike route crosses the river at highway D55 and then follows D132 to Gennes. There is a track on the north bank of the Loire from Gennes, but we found it so overgrown that we returned to ride the south bank ("rive gauche") route.
There are hotels at Gennes and a one-star restaurant and a campground across the river at les Rosiers-sur-Loire. (Hotels are also found ahead at Chênehutte, St. Martin-de-la-Place, Saumur,and Fontevraud—the latter also has a one-star restaurant.)
Fifteen kilometers from Gennes and 50 kms from Angers lies Saumur**(see "Best Towns"), a good ending point for this stage. The town has considerable charm, the château is imposing, and there are other sights as well, such as the Museum of Tanks (Blindés) with one of the world's best collections (open from 10 am to 6 pm every day). Neary is the French National Riding School, the "Cadre Noir", with guided tours of the stables and occasional gala performances that thrill horse lovers.
These quarries east of Saumur have been turned into habitations: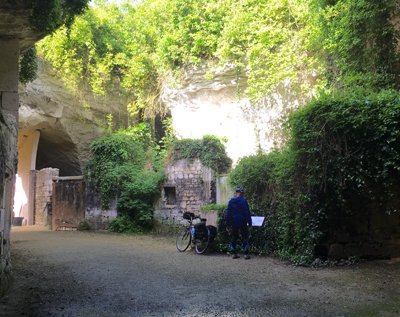 If you are going to the Abbey of Fontevraud** and don't mind riding on roads, after Saumur you can probably save much time by taking D145 rather than the cicuritous and very hilly LLAV route that branches due south from the river. During our May 2016 visit, there was almost no traffic on this roads.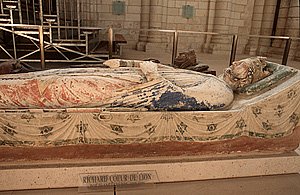 The Abbey of Fontvraud** (described under "Best Châteaux"), the largest in France, lies 15 kilometers from Saumur. Several French-English kings and queens are intered there. The author found it well worth the 9 kilometer total detour.
Twenty kilometers from Fontevraud lies Chinon**, on the Vienne River, a charming town with many sights including its famous château** — a medieval fortress. There are several moderate hotels and a one star restaurant.
For detailed directions, photos and information on the following part of the Loire region, the heart of the Chateau of the Loire, please refer to all of the Loop Tours in Part II of the article on the Loire Chateau region. By all means, spend several days in this region of the Loire Valley. The following paragraphs cover the routing I would follow on a point-to-point itinerary coming from the mouth of the Loire.
Amboise seen from afar:
After staying in Chinon you could follow D751 through the forest for a total of 18 kilometers (saving 12 kilometers), to Azay-le-Rideau*** (hotels, campground), famous for its castle, on the Indre River. As D751 is narrow and bumpy and traffic is moderate with many trucks, I would not ride this way unless perhaps it is early Sunday morning. If you ride to Azay, do so from Ussé.
Follow LLAV to near the Ussé château** (8 kilometers) and consider visiting, it if your schedule permits, Azay-Le Rideau . You will need to decide if Azay is a priority, or if you want to spend more time in Tours.
Villandry Gardens from the Belvedere: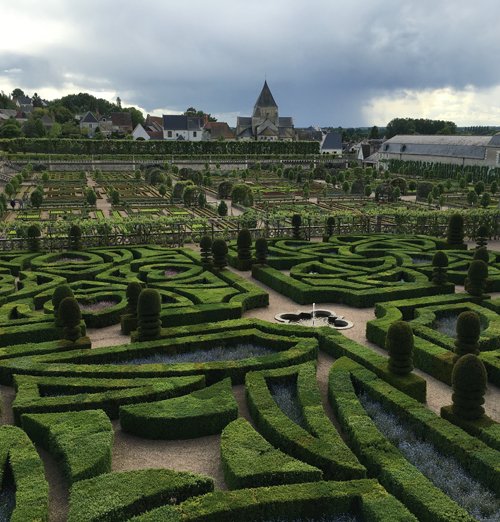 Either directly or after Azay, ride to the famous, geometric Villandry gardens*** (13 kilometers from either Ussé or Azay—hotel), before continuing into Tours in about 18 kilimoters. That is about 40 km if you skip Azay, and 61 kms if you cycle there. Iit will be a packed day.
Tours** has many sights, as well as other hotels at all levels. In Tours you will want to see the old town, the cathedral and its quarter, and perhaps, and if you can work it in, the fascinating Museum of Compagnonnage** (high level craft and construction guild).
Many itineraries are possible through the chateau region, depending upon you schedule and interests. If you just follow the Loire, you will miss many of the best sights. Draw your own route on a Michelin map. The white roads shown are almost always mainly free of traffic.
After Tour, LLAV reaches Amboisie** in about 21 km.. The Manoir of Clos-Lucé** was thelate-life home of the Leonardo Di Vinci, and he is burried under the terrace of the sumptious Chateau d'Amboise **. From Amboise you can follow the light-traffic D61 through the forest to Chenonceaux*** in 12.5 km. After this full day, you may ride to Blois** in about 50 km, a total of 80 km, and perhaps take a rest day there to see the sights, or depart by train in the afternoon.
Or stay near Chenonceaux., and, on the next day, visit Cheverny*** and Chambord*** before continuing to Blois**. You can easily access Cheverny by leaving LLAV route and riding 9 miles on the almost traffic free D52. Continue to Chambord on back roads through Bracieux. Follow the LLAV to Blois.
Burgundy as quickly as possible? And you don't mind riding on roads? And you don't mind missing the Chateaux of Blois, Cheverny and Chambourg? (Not advised.) Consider following the Cher River from Chenonceau to Bourges*** and then pick up the Eurovélo 6 south of Nevers at Decise. You'll ride just about 225 km to reach Decize instead of 353 km, and save at least two days. Here's how. See my discussion three paragraphs below for a similar shortcut.
Blois*** (hotels) is a very interesting town, with an important chateau***(open 9 am to 7 pm), and it is well worth a visit. If you should choose to bypass Blois, or if you wish to stay outside the city, there are hotels in Cour-Cheverny (on D765 due southeast from Blois, see below).
From Blois, if you haven't already done so, ride to Cheverny***, a wonderful, privately owned château, the only one in the Loire Valley with authentic period furnishings. You can see there, how people actually lived in the chateau era. It is off the LLAV route, but I strongly suggest the detour on the way to Chambord***. You can follow D956 out of Blois: It has considerable traffic but wide bike lanes. After the Y, in 3 km, where you bear left, there are bike lanes on D 765, and very little traffic.The Chateau is about 12 km total from Blois. From Cheverny to Chambourg, take D52 to Bracieux (5 km) and D112 to Chambord (7 km). Both have very little traffic. Now continue from Chambord on LLAV 45 km to Orleans*, for a total ride of 69 km, or if you are returning home, you may take a train at the nearer stations of Beaugency* or Meung,*, or back in Blois***.
Most people are purists, who, if theyare following the LLAV (Eurovélo 6) will continue following it. Others may want to avoid all roads with some traffic. Personally, having seen the Loire from Orléans to Nevers, as well as having visited Bourges*** and Aprement-sur-Allier*, I decided on my May 2016 trip to cut across country Southeast from Cheverny*** or Chambord*** to overnight in La Ferté-Imbault, and spend the second night in charming Bourges*** (its towering cathedral has fabulous stained glass windows) before cycling to beautiful Apremont-sur-Allier* and to a lovely chateau-b&b along the cycle path before Nevers. This saved two riding days (three versus five). Directions on how to do it are below. Note: Traffic was very low, but the long traverse of a forest was boring.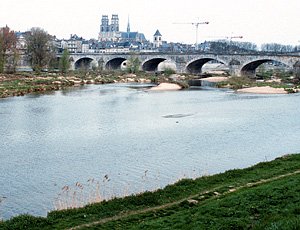 Orléans* has a monumental city center, many modest hotels and a one star restaurant. Trains, some of which carry assembled bikes, run to Paris in just over an hour.
If bypassing Orléans, from St. Hilaire take D14. You will pass next to the Floral Gardens of la Source**. There are hotels in Olivet and la Source.
The Loire from Orleans to Nevers:
If you ride 70 km a day, from the Chambord or Chevernay you will need five days to reach Nevers., the first night being in Blois, the second in Orleans, the third perhaps Gien, the fourth perhaps Sancerre, and the fifth Nevers or nearby.
From Orleans you may wish to cross to the south side of the Loire River on a bike path that follows near the railway track. If you are confident riding on roads, the fastest route would be to follow D126. You might want to visit the Floral Park of the Source**, when you pass nearby. At Saint Cyr-en-Val, follow D14 eastwards. The LLAV takes a much more circuitous route along the river. About 48 kilometers from Orléans (if you take the highway, much more if you follow the LLAV), you arrive in Sully-sur-Loire. If you took the highway, and wish to see the Romanesque basilica of St.-Benoit-sur-Loire**, constructed between 1067 and 1218, cross the Loire at Sully-sur-Loire and backtrack northeast on D60 for 7 kilometers (on the main LLAV route). After your visit, return to Sully-sur-Loire.
In the internationalMuseum of Hunting: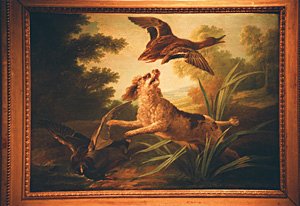 Now follow D951 to Gien*(23 kilometers). (The LLAV route is much more circuitous.) Gien has hotels, a campground, and restaurants as well as a Château that houses the enjoyable International Museum of Hunting**. From the terrace near the château, there is a great view over the town and the Loire.
After Sancerre*, after a 24 kilometer ride on D920 (or you can take the LLAV route) , you might want to stop at la Charite-sur-Loire*, a thirteenth century basilica (hotel). It could be amusing, along the way, to ride an extra 3 or 4 kilometers on the "island" between the canal and the Loire on D206 and D187. From Charite-sur-Loire follow D45 to Cours-les-Barres (about 19 kilometers).
Continue to Nevers following LLAV, by all means making a detour of 9 km to see Apremont-sur-Allier.
See addendum at the bottom of this page: Riding Cross Country from Chenonceau*** or Chambord *** to Decize.
The Eurovélo 6 Route from Nevers onward to the Burgundy wine region:
Eurovélo 6 continues following the Lateral Canal of the Loire as fare as Digoin. Then it follows the Canal du Centre to the east across Burgundy.
Canal and pedestrian bridge over the Allier River: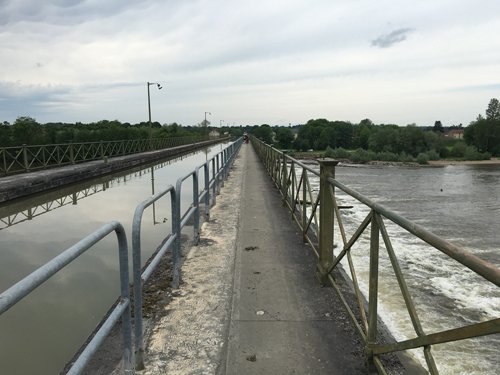 I have only one piece of advice for the ride from Nevers to Chalon-sur-Saone in Burgandy: It is worth the detour to visit the fabulous garden in Apremont-sur-Allier, shown briefly in the following photos. Otherwise, simply follow the Eurovélo 6 route. See the guidebook or this site: http://en.eurovelo6-france.com/leurovelo-6/eurovelo-6-in-france.
A home in Apremont-sur-Allier a short detour from the end of the Loire à Vélo: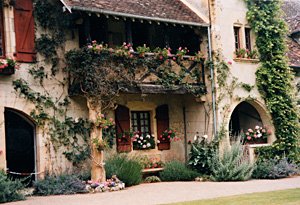 Wisteria in the Floral Park of Apremont-sur-Allier:

Boat on the Loire Lateral Canal, Eurovelo 6: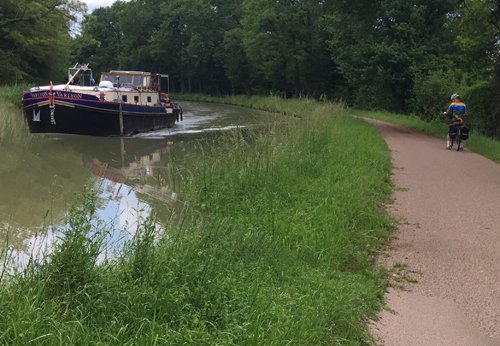 A Two-three Day Shorter, enjoyable Route Cross-Country from the Chateaux to Nevers on the Loire :
Below you'll find a series of maps marked up in two colors, showing a route from Chenonceaux, or two routes from Chevernay and Chambord, cross-country to the Loire River near Nevers and Decize. These routes passes through very charming Bourges, a town with a marvelous *** cathedral and some other sights, and Apremont-sur-Allier*, one of the prettiest villages in France with a very beautiful Floral Park** . Both Bourge and Apremont-sur-Allier are mostly bypassed by tourists, but I highly recommend them.
I cycled the route shown in orange in May 2016, entirely on either minor roads with very little traffi,c or on bike paths, or on forest track or for one kilometer, on sidewalk. The first part is quite boring, until Bourges, as it passes through endless second-growth forest with occasional dull small towns. We overnighted in La Ferte-Imbault. A train station was available 10 km away in case of terrible weather.
I've looked at a good part of the routes in purple and red with Google Roadside Views, and traffic appears to be very light the entire way, excluding some moderate traffic when passing through towns where there are sidewalks if need be. Traffic everywhere picks up, obviously, in the rush hours and before and after lunch breaks. Along the Cher River, the main difference between roads D976 and D35- D17-D51-D35 is that the latter are more hilly and pass through villages. D976 will certainly be faster, but it looks as if it will be boring after a while. You can make up your mind between the two as you go along. In any case, this is agricultrual land without any points of great interest. I've indicated a slightly hilly detour around Verizon that avoids traffic but adds 13 km.. I would overnight near Romorentin or nearby (about 50 or 40 km from the chateaux) and then ride about 60 km the next day to Bourges.
From Bourges to Apremont-sur-Allier takes 68 km of backroad riding, and about 20 km or so more are need to reach Magny-Cours or Nevers, or 7 km to reach a lodging along the bike path. It is about 20 km from Magny-Cours to Fleury-sur-Loire (or 25 from Nevers), and another 15 to Decize.
Using these shortcuts you will arrive in Nevers on the third night. At the same pace on LLAV, riding from Chenonceaux, you would be arriving in Blois on the first night, Orleans the second night, and then, if riding 70 km days, Giens on the third night, Sancerre on the fourth night and Nevers on the fifth night. So three nights are saved if starting from Chenonceaux and two nights if starting from Chambord or Chevernay.
If cycling from Chenonceaux:

If cycling from Chambord or Cevreney: (We followed the route in orange in May 2016; very little traffic but very boring.

The route continued to the east: (we followed the route in orange in May 2016.

Approaching Bourges:

Closeup of arrival at Bourges:

Map of central Bourges:

Detail of the route out of Bourges:

Continuation of route leaving Bourges:

Continuing towards the Loire:

From Apremont-sur-Allier to the Loire: (I recommedn that you follow the bike path shown in orange,s we did in May 201,6 rather than roads,
asit is fast riding , attractive, and on traffic free cana-side bike paths.

To List of Great European Bike Tours