<Link to Detailed Itinerary - Part A - Days 1 to 6>
<Link to Detailed Intinerary - Parts A and B - without photos and in smaller type for printing>
Links to riding days:
7,8,9,10,11,12,13, the days after
Text in black is directions.
Text in italics is for an alternative route.
Text in brown is for comments.
Text in blue is for detours that are off the Way of Saint James.
Text in green is for "Author's Tips".

Please read the General Information and Organizing the Trip Page, as it contains much information that is relevant to the itinerary.
The Itinerary:
Day 7: A less interesting (and somewhat less difficult) day, but worth it to reach Moissac (52 - 59 km).
From Cahors**, take the flat, very heavy-traffic route D620 south for 3 kilometers. Initially you can ride on a narrow shoulder; then there is a short stretch when you have to brave the traffic, then you can ride in the joined parking lots of the mega-stores on the right. Just after the intersports (bicycle supplies, closed 12:30-14:30), at the second traffic circle, turn right onto D653 west (light plus traffic) for 0.7 kilometers, and then left onto D7 heading southwest (very light traffic). (You could stay on D563 all the way to Lauzerte; however the traffic is heavier and you are farther from the ancient chemin.)
An alternative to D620 is tofollow the ancient pilgrimage route, it will cost you time and a steep climb, but avoid traffic. After crossing the famous Valentre bridge, angle to the right up hill, getting on D27, on which you wil climb about 180 meters (500 feet) in 1.5 kilometers through Roqueibilière to La Capelle. Approximately3 km from La Capelle, bear left into the village of Trespoux-Rassiels. Leave the village to the southeast, bearing immediately right on a road which leads downhill (dropping 100 meters) to highway D653. (Of course one could follow D653 all the way to Lauzerte, but there is much more traffic.) Turn left and immediately right, now climbing back up the 100 meters to just south of St. Remy. The road curves sharply left and comes to a T. Turn right, enter D67 bearing left, and continue to D7 just south-east of Labistide-Marnhac. (You can avoid the 100 meter drop and climb by continuing 2 km further southwest from Trespoux-Rassels, taking D67 south, turning left (east) on D653 and then right through the village of Le Cluzel, and continuing on back roads to D7; this is longer but perhaps faster.)
Initially on D7 there is a moderate climb to Labistide-Marnhac, then a slow climb and a descent. The countryside seemed to the author quite dull until Lascabanes, and I just wanted to take the straightest route and get it over with. However, if you wish to follow the ancient pilgrimage route as closely as possible, take D67, then D659 south from Labistide-Marnhac to L'hospitalet (once site of a hospital ministering to pilgrims) and continue south-west on D54 until it rejoins D 7 after Lascabanes.
Irrigated fields near Lacabanes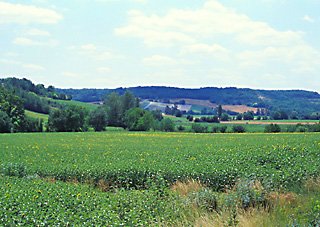 Stay on D7 (the ancient route) to Lauzerte (fortified hill town, hotel, gite, camping; 30-34 kilometers). Before Lauzerte you leave behind the department of Lot and enter the French department of Tarn-et-Garonne. This department has better road surfaces, and you can make better time.
The hilltown of Lauzerte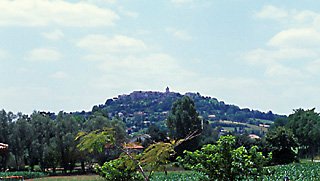 The 4k longer, faster, easier, less traffic, route that I followed from Lauzerte was to stay in the river valley on the well-surfaced D953 from Lauzerte, until I reached the sign for Moissac. One turns left on D957. A climb of 100 meters (300 feet) ensues, followed by a descent into Moissac.
If you prefer to follow the ancient route somewhat closely, however, take D2 to Durfort-Lacapelette. Many trucks go this way, and you have to cross two ranges of hills instead of one, climbing 100 meters (300 feet) each time. From Dufort-Lacapellete take D16 and D957 (rolling to flat to downhill) into Moissac.
Moissac, with stucco buildings in pastels, as in Italy.
You should definitely spend the evening in Moissac** (train service, hotels, gites, camping; total distance of about 52 - 59 kilometers). The town has a charming Italian aspect—with stuccoed facades painted in different earth tones. The carvings over and beside the doorway into the Church of St. Pierre (executed between 1100 and 1130) are fabulous.** The church interior* is interesting. The adjoining cloister** is noted for the carving on each column.
The tympan (arch over the main doorway) of the Church of Saint Pierre, Moissac, sculpted beween 1100 and 1130, depicts The Last Judgement.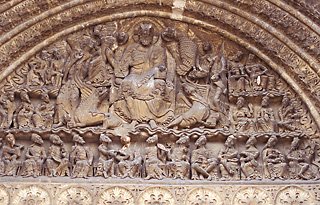 Adam and Eve in grotesque carvings by the main door of the Church of St. Pierre, Moissac.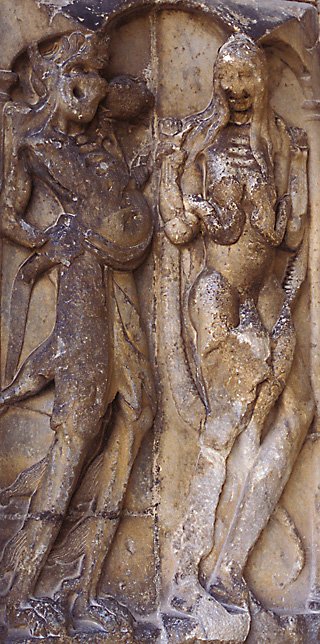 One of the fine groupings of sculptures in the Moissac church.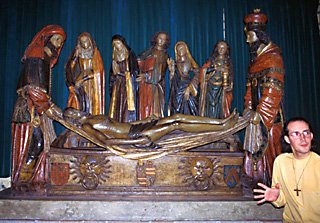 Modern sculptures in Moissac, not far from the Church of St. Pierre.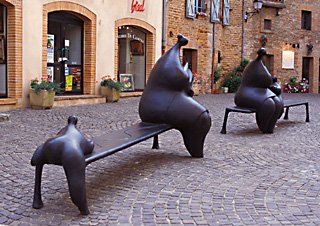 Author's tip: The little pizzeria on the corner of rue de la République, with outdoor tables facing the main (carved) doorway to the church, serves excellent fresh salads, hot dishes, and fruits for dessert at reasonable prices.
Day 8: Today you cross the mighty Garonne river, and enter Gascony—land of Dartignan, third of the three Musketeers; a land of brave and passionate people who live life to the full (so they say)! Don't be surprised, in the hotels, to find posters of Torreros and Matadors. Bulls run during July, August and September. Today you enter, after the relative flatness of the last few days, a land of hills in every direction, with manicured fields of crops (50 - 55 km).
Almost without exception, for the next three days, you will be riding upon the ancient pilgrim's route.
If you are a very strong rider, and if you are short of time, you could combine the next three days into two: Continue as far as Condom on the first day, then to Aire-sur-l'Adour on the second. Another possibility, if you like the charming town of Condom, would be to take three days but shorten your second day to stay there, and ride a longer third day to Aire-sur-l'Adour.
To leave Moissac, either follow N113 west, or take the haulage path along the south side of the canal (recommended–see below for details).
N113 is fast—with a good surface, wide, and with light, but high-speed traffic. This highway will be much faster and easer on your bicycle, if you don't mind cars whizzing by. Unless the traffic is very bad continue to the clearly market left turn for Espalais on an unnumbered road (about 14 or 15 k from Moissac, 4k after the town of Maluse). The ride to Espalais is appealing.You can also turn at Maluse, cross to the south side of the two canals, turn right for 1 kilometer, and follow through Bayne to Epalais.If the traffic on N113 out of Moissac is unbearable and you wish to stay on a road, you can turn left on D15 (5k from Moissac). Follow this south through St-Nicholas-de-la-Grae and over the autoroute to D12. Turn right, and follow D12 to Auvillar.
On highway N113 above, just before Malause, you might want to turn left onto D26 bis to the bridge over the Garonne towards St. Nicholas—for a photo of the river—and then come back to the highway.)
The canal after Moissac, with cyclist on the haulage path. Photo by Robert Deurloo.
The Canal Haulage Path:
Unless you are really short for time, or have narrow racing bike tires, the author recommends a ride on the very pretty canal haulage path for at least a short segment. Initially, it corresponds with the walking route, and you may come accross laden pilgrims. The haulage path is composed of compacted earth and gravel. The first segment was not a problem for the author's 28 mm tires. Below the haulage path runs a tarred road, but it lacks view.
A deeply religious pilgrim walks nearby the canal (not visible) leaving Moissac, with wheat fields in the background.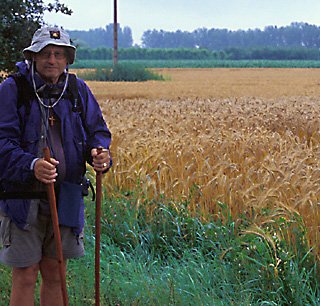 If you take the haulage path, you have a choice on how far you wish to continue: If time is short, or if you have a heavy bicycle with tires less than 28mm wide, you should probably cross back to the road on the right bank at your first opportunity. You can do this where the paved road on the left rises, turns right across the haulage path and crosses a bridge over the canal (about 2.5 - 3 kilometers from Moissac). After this crossing, the haulage path becomes more bumpy and stony, but is still rideable, with 28 mm or wider tires.
The mighty Garonne River, from the bridge to St. Nicholas.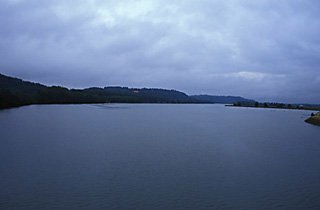 If you are not pressed for time and if you do have wide tires (or if your tires are narrower but your bike is not heavily laden), you may well wish to continue on the very pretty and calm haulage path, rather than taking the highway. It provides magnificent views of the Garonne River on your left. After riding 9 or 10 kilometers from Moissac, after the river turns away, you will find yourself riding between two canals, and in about another kilometer, just south of Malause, you will come to a crossroad. Turn left, crossing the southern canal, then turn right and ride about a mile on a paved road to a left turn marked for Auvillar. It passes through Bayne and Espalais.
From Espalais, cross the Garonne and climb very steeply into Auvillar.
Pavillion in the old town of Auvillar.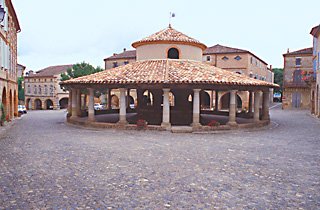 The old-town of Auvillar merits a visit; turn left through the tall clock tower (Gite, camping, hotel). After the town there is another long climb. Trying to follow the present GR65, the author took D11 (with a descent and another long climb to Bardigues) and on 3.5k to D3, where a right turn led down a wonderful descent near Masonville to highway D953, but this was probably a mistake.
Sunflowers cover a hillside, near Masonville.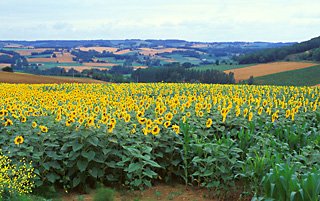 The ancient pilgrims took a route which is easier and shorter, thus recommended: After Auvillar simply branch right on D88 which with no descent, and in much less of a climb leads directly to D953 (possibility of light plus or light to moderate traffic).
Follow D953 uphill to the hill town of Flamarens (now in the French department of the Gers), then down and up to the hill town of Miradoux; then take D23 to N21, and N21 for about 2 kilometers (moderate traffic and trucks, but road has a shoulder) to Lectoure* (bastions, remarkable view from the park, prehistory museum, hotels, gite, ; total distance of 50-55 kilometers). Below the town of Lectoure, down by the rail station near the road to Condom, there is a small manufacturing facility that produces "the blue of Lectoure"—pre-indigo, woad dye (pastel in French), and sells dyed textiles and jewelry. Turn left on a dirt road by the tracks to reach it. Until the 17th century, the production of woad brought great riches to this part of France, particularly to Toulouse.
Day 9: From Lectoure to Condom it is one small but steep hill after another (count on 500 meters - 1700 feet of climbs). From Condom to Éauze, the hills are less steep and farther apart. Field follows field. After Condom you will notice the vineyards, planted most often with the grapes that give the distilled spirit Armagnac (57 km) .
Make a left turn off the main street of old Lectourne and follow some reverse curves steeply down from the promontory to the main highway towards Condom, D7. In very hilly country , ride D7 (light traffic once away from Lectourne) to Marsolan (hotel, gite), D166 to the 14th century Romieu abbey* (hotel, gite, camping). "Romieu" is a corruption of the Occitan (Southern France) language word for pilgrim, because the earliest pilgrims went to Rome. The Monastery was founded in 1062. Particularly interesting and unique are the decorations of the tower to the left of the altar. Now ride D41 to Condom* (very quaint town worth a walking tour or an overnight stay, see cathedral* and cloisters*; the earl of condom is said to have invented the condom here; armagnac museum; hotels, gite, camping 26 kilometers).
The sizable town of Condom, in the Gers region of France.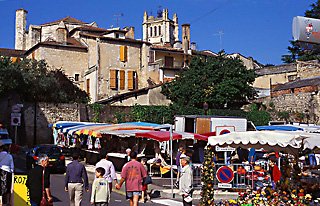 Picturesque Larressingle, France's smallest and cutest bastide (fortified village).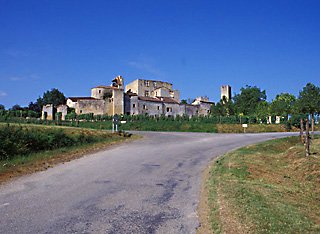 Follow D15 towards Montréal. After 4 kilometers, a short 1 kilometer detour to the left up a small hill leads to Larressingle (France's smallest and "cutest" bastide—from the 13th century, also with a working 1/3 scale display of war machines of the middle ages), then return the way you came. In Montreal there are shops. When descending the hill at Montreal, be careful not to miss the left turn onto D29. (If instead you go straight, you come to a nice park with a picnic area and a swimming beach on a pond.)
Near Montreal-du-Gers is an artificial lake and beach.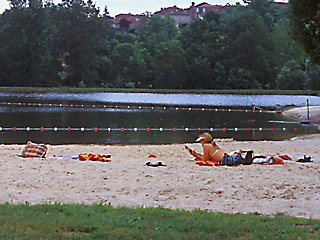 Just after the turn, a right turn (a detour from the route) on a side road leads uphill (about a 50 meter climb) to Séviac. I recommend a visit to this site, which contains the ruins of a 4th century roman villa of vast size, if you will, a "plantation house", including many spectacular original mosaic floors and vestiges of baths and an undergournd heating system. There is a small admissions charge. Return the way you came, and take D29 south to Éauze (one time roman capital of the region; priory, old houses; hotels, gite, camping; distance with the Larressingle detour from Condom 30 k, total distance from Lectoure, 57 kilometers). A shortcut from D15 near Beaumont to Eauze through the Armagnac back-country, is via D254.
These vineyards contain grapes destined to make the local spirit: Armagnac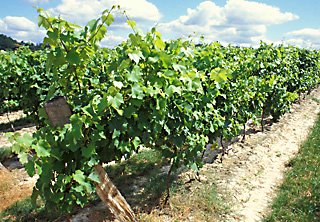 Day 10: Hills are less numerous as you approach Aire-sur-l'Adour. Mainly the terrain is rolling. Road surfaces are excellent, and you zip by fields of vines and corn (maize). Take the afternoon off for rest or shopping (39 km).
From Eauze, by D931 ride to Manciet and Nogaro, then follow N124 to Barcelonne-du-Gers, then D935 to Aire-sur-lÁdour,in the French department of Landes (train service, hotels, gite, camping, château hotel 10 kilometers south by N134 or back roads, in Segos) (39 kilometers—possibly moderate traffic in town).
Corn (or maize, as the English say) grows near Nogaro.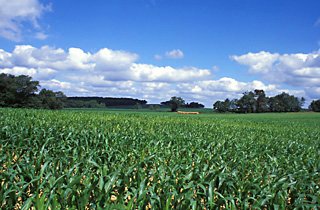 Out of Eauze, on the author's trip, traffic was moderate for 3.5 k (good shoulder), and then becames light to moderate. Just after Manciet you can leave the main road if you wish for a hillier alternative: Take the road branching to the left with the do not enter sign; walk your bike up the hill to respect the one-way traffic; after that the road is two-way to Nogaro. After Nogaro traffic on the main highway becames light. The road surface is very fast, until you reach Barcellone-du-Gers. From here until Aire-sur-l'Adour, traffic was moderate.
The town of Aire-sur-l'Adour is acharming commercial center (hotels, a gite, and camping). There is a park on the north side of the river with picnic tables. The shops are surprisingly well stocked.
There is a chateau-hotel 9k to the south in Segos. Also, the famous, expensive luxury spa resort and Michelin three-star-rated "health food" restaurant of Michel Girard at Eugenie-les-Bains is only 18 k away by D65.
The hotel L'Ahumat in Aire-sur-l'Adour provided a pleasant room, a tasty dinner for one, a glass of wine and breakfast for € 44 (2002).
Day 11: With good weather, this is an easy and beautiful day of biking. The author strongly recommends you follow these directions, as other routes (listed in some guidebooks) will make for a harder and less esthetic day. Moreover, the author's route follows close by the GR 65 and the ancient pilgrimage route (about 75 km).
Unless you purchased the IGN #62. "Bayonne to Mont-de Marsan" map, which I have not recommended, you will be riding for about 10 kilometers off of Map #63 (Tarbes Auch) southeast of Aire-sur-l'Adour, where that map's cover page is printed (and before you pick up again on the same map on a panel just below the cover page). You won't get lost if you read the bold-type paragraphs just below carefully.
Climb from Aire-sur-l'Adour by N134, of good surface, fairly wide, and moderately graded, but with moderate traffic. (Or you can take the old road that climbs out of town to and by the cemetery, until it joins N134, which is initially steeper but has less traffic.)
In 3.1 kilometers from your start, turn right on D456, signed Latrille. Traffic will be light to very light to nonexistent for the rest of the day. (This road runs close by the GR 65 walking route. If you miss the turn, there is another turn off market for Latrille in approximately 6 kilometers.) Road D456 begins inauspiciously, with a decline and regain of elevation, but afterwards the terrain will be essentially flat as the road heads south for approximately 6 kilometers. When you reach Latrille, one block after the church be sure to turn right, and at the next road turn back left again. (If you don't, the road curves back towards the main highway.) In one mile you are back on your map #63, in the bottom-left corner, just west of N134 and north of Lamenchaou.
This privately-erected signpost along the standard walking route reminds that the pilgrimage to Compostella, Spain , is far from finished (953 walking kilometers to go!).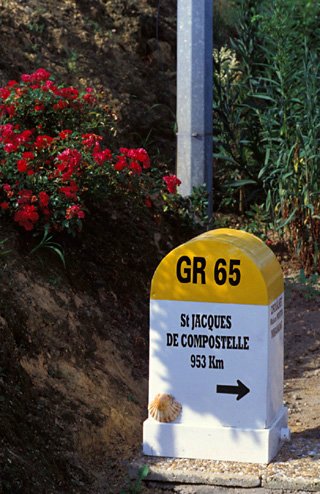 Do not turn right after Lamenchaou; despite the map, the road is unpaved. Do turn right at D412, which leads to D11 (turn right) and into Maramont-Sensacq (gite, hotel). Turn left here, and continue south on D296. (The author recommends a detour at the second right turn after Miramont-Sensacq, for a few hundred meters along the signposted GR65 walking route to see and photograph the milestone indicating that walking pilgrims have "only" 953 kilometers to go to reach Compostella, Spain; return to D296 and continue south, as road bikes cannot follow the ensuing section of the GR65.) You will now begin to encounter some small hills.
You cross into a new French department, the Pyrénées-Atlantique. Turn right on D946 near Boueilh. A huge descent takes place, followed by a couple of small climbs into Arzacq-Arraziquet. (Your location is now at the top-right of IGN map #69, "Pau-Bayonne".) Arzacq has many services, including a large supermarket, a gite and a hotel.
The author strongly recommends that you do not leave Arzacq-Arraziguet by D946, as this highway is very hilly for a long period of time. Rather, take D32 towards Mazerolles, which has one short steep hill, followed by a long descent, then one long, moderately-sloped climb, followed by another long descent -- about 6 kilometers.
At the beginning of the valley, turn right onto D262, towards Larreule. You have a choice of may flat routes, but you will probably enjoy following the white and red blazes of the GR65, through Uzan, Géus, and Pomps. (Before Pomps, when the GR crosses a field, turn left and then right to regain the GR route.)
Near Pomp, twoEnglish horsewomen pose for the camera; they have ridden the pilgrims route from Canterbury (having crossed the channel by Ferry from Dover to Calais), and will continue to Compostella. A family member drives their food, horse feed and camping equipment in the visable horse van.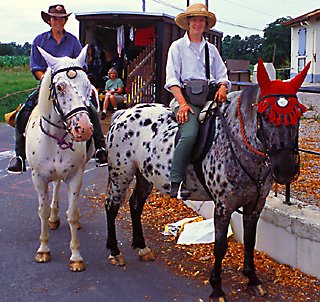 When the GR crosses the main highway, D945, you have a choice: either follow the road (D269) (near the GR) to Castillon, which involves an extra very steep climb and a descent; or, turn right on D945 and follow to D946 to bypass the first climb. You arrive into Arthez-de-Béarn (100 meters above the valley, good view, gite, camping).
From Arthez proceed westward on the ridge, continuing to climb after the town, until D275 bears left and starts descending slowly, then faster At the national highway N117, turn right and ride 1 kilometer. (To reach Orthez and its train station follow N117 for another 9 kilometers.) Then turn left and cross the bridge (onto again D275) over the autoroute and the Gave de Pau River into Maslacq (hotel, gite; total of about 75 kilometers from Aire-sur-l'Adour).
Day 12: The day divides into four parts: a slow-going morning trip through the back country to Sáuvelade; a ride over very steep hills in extremely pretty country to Navarrenx; a medium-paced late morning ride through attractive rolling countryside to St. Palais; and a rapid but less interesting afternoon ride (unless you take some detours) to charming St-Jean-Pied-de-Port (77 km).
Above Navarrenx, the Pyrénées appear in the distance.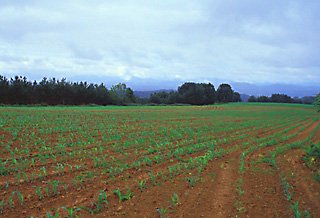 Leave Maslacq by the signed route for Sáuvelade (D273). This road, after crossing a medium hill, joins the level D110. The church in Sáuvelade is a remnant of an ancient abbey. You now have a choice of route: Either follow D110 and D110A to Vielleséqure over flat terrain, and D111 to Navarenx over one high hill (about 130 meters or 400 feet)—by far the easier, faster way (14 km). Or, follow the blazes of the GR65 on tiny roads, as the author did, in beautiful countryside (about 12 km), but you will have to cope with two long and steep hills (about 130 meters or 400 feet each)—one of which is so steep that even walking it takes a huge effort to push your bike up it. When you emerge from the back roads at highway D936 at Méritein, turn left to reach Navarrenx. Navarrenx has hotels, a gite, camping, and all services.
From Navarrenx, cross the bridge over the Gave d'Oloron River and bear right immediately towards Castetnau-Camblong. Continue following D115 due west (rolling with small hills) to Nabas. After crossing highway D244, D115 ends at D2. Turn left. Before long, D115 starts up again, branching right. Follow it to Aroue. Then turn right on and follow D11 up and down a succession of small hills through Etcharry and some other Basque towns to St. Palais (47 k from Maslacq). Three pilgrimage routes through France join near St. Palais. The town has hotels, religious accommodation, and camping.
Follow the main road, D933 to St-Jean-Pied-de-Port. At lunch hour, the author found this road deserted. Later, traffic became light plus. The surface of this highway is unusually good, and it has a nicely paved shoulder "biking lane" that is about 2.5 to 3 feet (0.8 - 1 meter) wide. There are several small hills and one big hill on the way to St-Jean-Pierre-de-Port, but most of the way is uphill at an easy gradient that allows for rapid biking. Just before the town their is a pleasant, high-speed descent. Unfortunately the scenery seen from the highway is not special. Along the way, above the main road, are more scenic towns and villages where you could visit or stay, such as Ostabat (gite) and Larceveau (hotels).
A charming river scene in St. Jean-Pied-du-Port.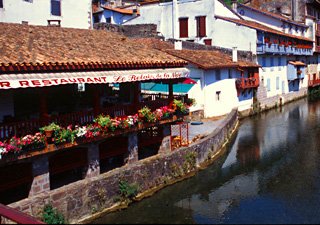 Unless you are pressed for time, you should really make the small detour necessary to enter St-Jean-Pieds-de-Port by the ancient St. Jacques "porte" (portal) to the old town, used by the historic and present day walking pilgrimage route. You will need to watch for the turn carefully, as you will be in a high-speed descent: One kilometer west of St-Jean-le-Vieux, where the highway has curved to the right and you are riding downhill to the west, look for the left turn to la Magdeleine and/or also possibly signed for the "Porte St-Jacques" and the Citadelle or "Caro". (The author missed the turn and had to retrace.) The GR65 also crosses here. After the left, you must immediately turn right. Shortly, you angle left, cross a little stream and climb gently to a Y with D401. The gate is on your right. (About 77 kilometers from Maslacq.) Walk your bike down the cobbled street. If you miss the turn, you will enter the new town by the main street. In that case go visit the Porte St. Jacques on foot.
Just inside the St. Jacques portal on the right is a pilgrims welcome office, where passports are stamped and documents are provided for pilgrims going on to Spain.
St-Jean-Pied-de-Port (literally "St. John Foot of Pass") is very picturesque and charming Basque town, 8 kilometers from the border with Spain, and rightfully filled with tourists. The tourist office provides a map for a walking tour. The town has many hotels ranging from inexpensive to deluxe, gites, religious accommodation and two campgrounds. Restaurants range in from the inexpensive to the costly, including one with a Michelin star.
The main street of the old town, St. Jean-Pied-du-Port.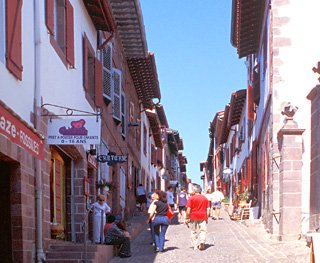 Unaware they are being photographed, these children enjoy wading in a stream near St. Jean-Pied-du-Port.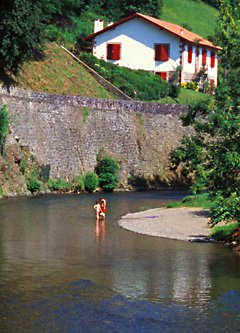 Assuming that you are not continuing by bicycle to Compostella, St-Jean-Pied-de-Port is a logical ending place for your journey. Train service connects the town with Bayonne, and from there you can return to Paris in less than five hours. (See the discussion of train connections and other alternatives in Part 1 of this article.)
But if you have a day and energy, there is a better alternative than immediately leaving St -Jean-Pied-de-Port: Continue on to Roncesvalles, Spain (Roncevaux in French) on Day 13 and return to St-Jean-Pied-de-Port in the afternoon for a second night or an evening departure.
Author's Tip: Up the main road from the tourist office there are some stairs, and a right turn leads onto a short little street, rue de France, that enters the ramparts and climbs to the rue de la Citadelle. On the left is a tiny restaurant that serves a salad, simple main course, and desserts including tiny fresh fruit cocktails for € 10. If this restaurant is full (it can fill up around 7:30 PM), its larger sister restaurant is located just below on the other side of the street.
Day 13: Today you will ride up to the illustrious and beautiful Roncesvalles Abbey, Spain (in French, Roncevaux), crossing the Puerta de Ibañeta (Pass of Ibañeta) at 1057 meters (3468 feet), an 877 meter (2,877 foot) climb above St-Jean-Pied-de-Port in 27 kilometers. Roncesvalles is located only a kilometer beyond the pass and about 80 meters (260 feet) lower. Assuming that you are returning to St-Jean-Pied-de-Port, leave most of your baggage behind.
The mountainous French Basque country, between St. Jean-Pied-du-Port and Spain.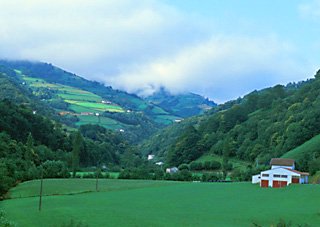 Mountain bikers will be tempted to take the high route, the so-called Route Napoleon, because it is the route Napoleon took to invade Spain. It crosses a pass called the Col de Bentarte at 1,337 meters (4386 feet)—a climb of 1,157 meters (3796 feet) before descending to the Puerta de Ibañeta and Roncesvalles. The Route Napoleon is entirely upon a ridge, with great views in all directions, whereas the main road follows the river and then contours up a mountainside. Ancient pilgrims used both routes, but favored the higher one, as it was out in the open, and less subject to surprise attack by marauders. Road bikers on the high route can take a road to reach a spot one kilometer from the Col de Bentarte, where the walking path deviates from the road. They can also visit a nearby pass called the Col d'Arnosteguy, with views down into Spain. It is perhaps possible to descend from the Col de Bentarte on foot with a non-loaded road bike equipped with wide tires; however, the young Spaniard in the Roncesvalles Tourist Office, himself a cyclist, strongly advises against it. An email from a reader argues that "there would be no point in attempting the Route Napoleon with a road bike....The terrain...is not horrendously difficult...but the last leg is a steep downhill run which requires good brakes and firm control."
Beware of bad weather and the possibility of gale-force winds at elevation (on any of the routes) that could blow you off the road, and possibly over cliff. With a bad forecast, or bad weather, don't set out.
It's a border, so everything changes: Spanish language, Spanish road numbers, Spanish meals, Spanish wares, and so on.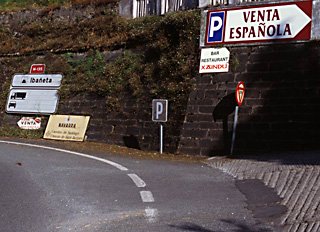 Leave St-Jean-Pierre-de-Port to the west; D933 branches left almost immediately. Traffic is said to be normally light or very light, as it was for the author on a Sunday in early July. Interestingly, at least 100 other cyclists were riding up to or back from the pass. For the first 8 kilometers to the Spanish border, you ride in slightly rolling ride near the river, with very little gain in altitude, and pretty good road surfaces. The highway number changes to N135. Now your climb really begins, lasting interminably, until suddenly you round a curve and are at the Ibañeta pass, with its chapel and monument, 27 km from St-Jean-Pied-de-Port.
The longest single climb of the pilgrimage leads to the Ibañeta Pass over the Pyrénées.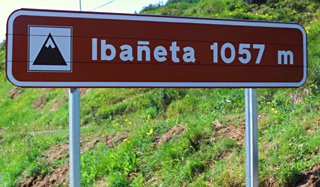 Above the Ibañeta Pass lies the ridge crossed by the "Route Napoleon", which was favored by pilgrims to avoid bandits.
After taking in the view, you descend quickly to Roncesvalles.
Lock your bike and visit the area by foot. There is a museum with religious paintings and sculpture, open in summer from from 11:00 to 13:30 and later in the afternoon. Accommodations are available in the refugio (gite) or in the youth hostel (if you qualify), and there are several restaurants.
Both French and Spanish literature have early epic tales recall the events at Roncesvalles in the year 778—from opposite points of view! Roland, who was bringing up the rear guard of Charlemagne's army, came under attack by the Spanish Basques. According to the French version of the tale, Roland, blowing an incredibly loud blast on his horn, succeeded in summoning the Emperor, and staving off the attack.
Roncesvalles (Roncevaux in French) provides lodging to pilgrims visiting its famous 12th century abbey church.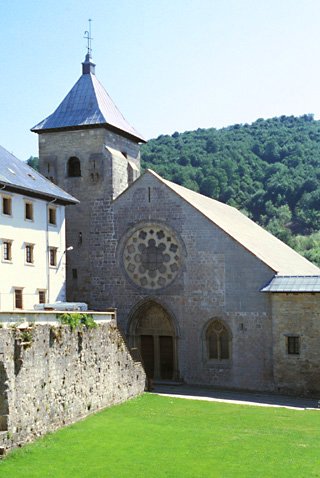 The exquisite abbey church, dedicated in the year 1219, contains architecture and stained glass windows that are reminiscent of, and highly influenced by, the gothic churches of the time in the Paris area. (Every day, there is an evening pilgrims mass, and there are two midday Sunday masses. The organ only plays before, during and after masses.)
The stained glass windows, the decor, and the organ nusic make the Roncesvalles church a great pleasure to visit.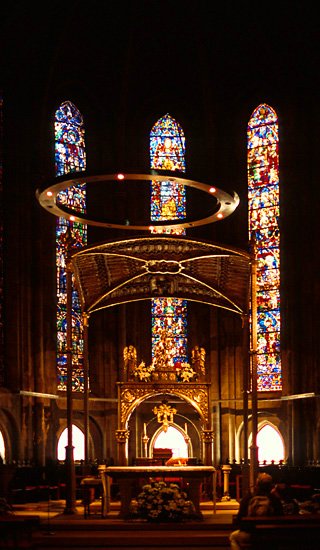 I was much moved by the beautiful designs of the windows and the sheer quantity of glass (these brought to mind Saint Chapelle in Paris, the jewel-like private church of King Saint Louis, built two decades later). Since Sunday mass was soon to begin, the organ—with a fabulous tone— was playing, while the stained glass shimmered in the mid-day sun. An altogether fitting experience to end a magnificent trip on the Chemin de Saint Jacques de Compestelle.
********
If you are going to continue along the Camino de Santiago in Spain towards Compostella (nearly 500 miles away), a 47 kilometer downhill ride will bring you to Iruña/Pamplona. If you haven't alread done so, please read the sections in Part I of this article that cover Spanish information sources, the timing of a trip on the Camino in Spain, and how to use the Spanish trains. The Tourist Office in Roncesvalles can be of great help. Buen Viaje!
Southward and downhill from Roncesvalles, in the direction of Pamplona and Compostela.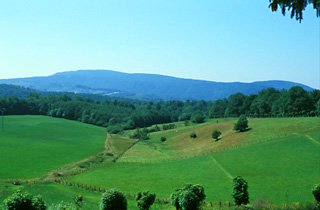 To return to St-Jean-Pied-de-Port, ride back up to the Ibañeta pass, and enjoy your long descent.
If you are planning to continue cycling in France, and don't care to retrace your path, you may wish to visit the busy Atlantic seaside. I find that Biarritz*** (it was the seaside escape for Queen Victoria) has lost most of its Victorian charm since I visited it many years ago, but acquaintances who don't know how Biarritz used to be feel that it is charming and is worth the visit. Biarritz has a wide selection of hotels and restaurants at all levels, as well a youth hostels and a campground. Traffic can be very heavy on the highways in the area, but is only light plus to moderate on the city streets. St-Jean-de-Luz** is another important Cote Basque seaside resort, with all facilities. All of the Cote Basque is connected to Paris in about 5 hours by high-speed TGV trains that carry bicycles.
To reach Biarritz from St. Jean-Pied-de-Port, follow D918 north along the Nive River. For the first 25 km, it is a continual slight downhill grade. Traffic doesn't pick up until about 9:30, so you might wish to get an early start. There is a "bike lane", i.e., a nicely paved shoulder about one meter (3 feet) wide for most of the trip. You come upon two medium hills near Louhossoa and Cambo-les-Bains.
After Cambo, I followed a route which I don"t recommend. It appears (in retrospect) that the best route to Biarritz will be to stay on the main highway (now D932) to Ustaritz. Then turn left on D250 uphill, passing by the tiny village of Etchetokoborda to D3. Turn right and follow to Arcangues and Bassussarry. From here a left on D254 should take you down to the Biarritz train station, from where you can follow D910 (wide, moderate traffic) into central Biarritz (about 50 km total ). (My thanks to a correspondant who rode the above suggested route as far as the Biarritz train station in 2005, and found it entirely without traffic or stress.)
To reach St-Jean-de-Luz, at the major intersection near Cambo-les-Bains, branch left, which is still D918, and follow this for 28 kilometers (total distance of about 50 km).
The seaside resort areas around Hossegor* (30 km north of Bayonne), and those further north along the Atlantic are calmer and less expensive; they are frequented by French families in the summer, and have all facilities. From these resorts you could continue riding north. To visit this area rather than the Basque Coast, you could bicycle to the Biarritz train station, and transfer your bike to Labenne—either on direct train carrying bicycles, or with a change in Bayonne. If you want to avoid the train, from an examination of maps, it appears that you should bike through very hilly country to Hasparren, either on D22 from St-Jean-Pied-de-Port or on D10 from Cambo-les-Bains. Then follow D21 northeast to La Bastide-Clairence, then D123 to Urt. Cross the Adour, pass through St-Barthélemy and follow D154 northward through St-André-de-Seignanx, and D54 to Haurie. Then follow D366 to the coast (about 90 or 100 km total).

<Link to Part I: General Information and Organization for the Saint Jacques de Compostelle Trip>
To List of Best European Bike Tours