Nature of the Ride: Provence, the ancient roman Provincia (province), impresses with beautiful vistas, charming villages, and wonderous works of ancient Rome, still standing after almost 2,000 years. The roman arenas, theaters, and monuments are found in the heartland of Provence, the mainly flat, rich farmland near the Rhone River. Cycling in this core region of Provence is easy—with only occasional small slopes or lightly rolling, small hills—except when the mistral blows (see When to Go, below). You will definitely also want to visit the ruined bastion of Les Baux-de-Provence***, in a range of hills, the Alpilles, east of the central region. Five centuries ago, warlords of swooped down to raid the surrounding countryside, then retreated to their impregnable aerie.
If you have the time, or if your interest is primarily charming villages, and if you enjoy (or tolerate) riding (or walking) up lengthy hills, by all means do visit the Luberon region of Provence—east of the core—with its picturesque, highly individual, perched villages, looking down on an agricultural plain. The author finds this area wondrously beautiful.
The cycling in Provence uses side-roads and occasionally minor highways with light traffic. In the cities and towns of Avignon***, Arles***, Orange***, Cavaillon, and Saint Remy* you will ride in light to moderate urban traffic, or walk your bicycle on the sidewalks. Only if you choose to make the side trip to Nimes*** will you encounter heavy city traffic.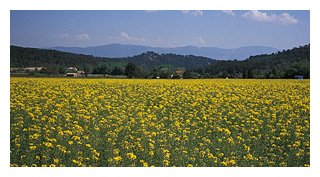 Please refer to the home page for links to important background on touring styles, transportation, bike types, rentals, maps, information sources, traffic ratings, packing, and security and safety tips. Refer to this page for information on French pronunciation, French bicycle nomenclature, and French road signs. Star symbols in the text show ratings given by the Michelin green guide books, which the author likes and uses. Three stars mean worth a journey; two, worth a detour; and one, interesting.
When To Go: The winter and early spring are generally unsuitable for riding in the region, due to rain and the Mistral, — a very strong, cold wind that often blows for several days at a time, bringing air from Northern Europe down the Rhone valley to the Mediterranean Sea. Even in late April, or early May, an otherwise ideal time to visit Provence, high winds may require you to modify your biking itinerary . In mid-to-late May, Provence weather becomes pleasantly hot; but, unless there has been a very cold spring in Northern Europe, there is little risk of the Mistral. The Mistral spreads out when it reaches the lower Rhone Valley near Avignon, so in Provence west of the Rhone you will likely face a wind from the northeast, and east of the Rhone, from the northwest.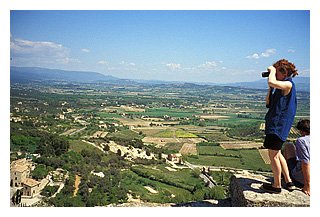 Also avoid cycling in the summer, from June 15 until September 15, which is very hot (and dry). The early fall is another ideal time to bike in Provence.
Attractions of the Provence heartland: Fields of lavender, rape seed, and red poppies punctuate open, long views in generally arid country. Pine forests carpet the Alpilles hills. Irrigated fields and orchards in the Rhone valley contrast with maquis (high scrub thickets) and garrigue (low scrub) on lower hill sides. Impressive Roman ruins include the arenas in Arles***, the gates and theater in Orange***, the temple and arena in Nimes***, the aqueduct bridge called the Pont du Gard***, and the monuments** near St. Remy. Natural wonders include the spring of Vaucluse*** the ocher cliffs by Roussillon*, and the wildlife-filled marshesand wild horses of the Camargue*.. All cities and towns exude an individual character and charm. Avignon*** contains the Palace of the Popes (where the popes resided in the 14th century, rather than in Rome) and a lovely promenade; Arles, a beautiful cloister and city square. The once impregnable, now in ruins, cliff-perched bastion of Les-Baux-de-Provence*** will takes your breath away.
Possible Variations of the main cycling route near the Rhone River are: to Nimes*** — mentioned above; to Aix-en-Provence** — a university city of fine art and architecture, churches and museums; a northward continuation to Séguret, Vaison-la-Romaine, and the Dentelles de Montmirai l— which visits worthwhile roman ruins, wine villages, and mountain vistas, but is less rewarding than the heart of Provence; and an eastern continuation, into the Luberon**— which leads to one picturesque hill town after another. For adventurous, self-organized riders, capable of riding longer days and dealing with elevation, a week'' ride to the Côte d'Azur*** (the French Riviera) via the Gorges of Vernon*** is very rewarding .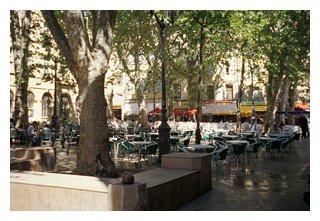 Provence has many campgrounds and is filled with hotels of all categories, from modest lodgings to ved and breakfasts to palace-hotels; it also contains a multitude of good, inexpensive restaurants, and many others with Michelin stars. Provencal cooking and wines are delicious. Tip: Try especially lamb dishes with Gigondas wine, or any local wine from the region.. Tip: Consider reading on your trip, Alphonse Daudet's "Letters from My Windmill", originally in French, and, of course, Peter Mayle's, "A Year in Provence".
The painter Van Gogh spent his final year near St. Remy-en-Provence, and Cezanne often painted near Aix-en-Provence..
Again, please do refer to the home page for links to important background on touring styles, transportation, bike types, rentals, maps, information sources, traffic ratings, packing, and security and safety tips.
How to bike Provence: Chose among very many organized groups with varied itineraries, difficulties, and degrees of luxury, or organize the trip yourself.

Clicking on any picture in this column enlarges it. Clicking a red button under a picture provides a very large image.

Poppies in Provence

Palais des Papes, Avignon

A cyclist views the "Pont d'Avignon" (Avignon Bridge St. Bénézet) of the well known French child's song.

A view of the Pope's Palace and high town, from atop the "Pont dÁvignon".
Pont du Gard
Pottery shop in St. Quentin-le-Poterie, near Uzès.
Arles Balcony
Roman arena, Arles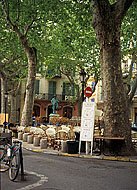 Park and Cafe, Arles

Distant view of Les-Baux-de-Provence

The upper citadel of Les-Baux-de-Province.

One of the breathtaking views from the citadel of Les-Baux-de-Provence.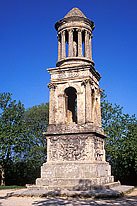 Still erect after almost 2000 years, this six-stories mausoleum stood beside the end of the Roman road to the town of Glanum.
Road in woods,
Alpinnes hills

Roman Theater, in Orange, the best conserved of the entire Roman empire..

Café du Progrès, Ménerbe, where Peter Mayle wrote "A year in Provence".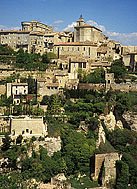 Gordes, a Luberon hill town

Abbaye of Sénanque, in its own valley. The lavender fields behind the abbey become light-violet in July.

The modest Crillion Hotel in Murs bears no resemblance to the five-star Paris Crillion.
Clicking on any picture in this column enlarges it. Clicking a red button under a picture provides a very large image.

Venasque village, a possible detour from Gordes to Ile sur la Sorgue.

Roussillon, a Luberon hill town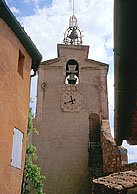 Roussillon church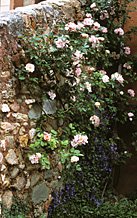 Wall and flowers, Roussillon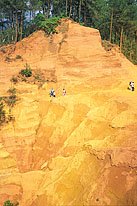 Ocher quarries near Roussillon

Cafe Caesar at Bonnieux,
a Luberon hill town
Organizing your own bike tour in Provence
To print itinerary, select the text below, and choose 'print selection'.
Please follow this link for an explanation of the author's traffic ratings.
Maps: For the Roman Heartland of Provence: IGN Top100 Map #66, 1:100,000 "Avignon-Montpellier". For the Luberon: IGN Top100 #60 "Cavaillon, Digne-Les_Bains" 1:100,000 or, better, IGN "Parc Naturel Regional du Luberon 1:60,000.
For the entire area: Michelin Map #11340 (or just #340), "Bouche-du-Rhone Var", 1:175,000; or Michelin #528 French Rivera (or #245 Provence Côte d'Azur—same map as #528), 1:200,000. (These maps have most of the information you need, but lack the tiniest roads, and are slightly less clear than the IGN maps.)
Starting Point for all circuits: Avignon TGV Station
The Avignon TGV train station is 2.5 hours from Paris. At this writing in 2011 three TGVs per day every day carry assembled bicycles between Paris and Avignon.See this site's page on bicycles and trains for more information on carrying on your assembled bike, shipping your bike or bringing it in a cover or case.
Bike Rental in Avignon
I have no personal experience, but have turned up the following touring bike rental company:
http://www.provence-bike.com/location-velos-trekking,51,36.html
There may be other companies in Avignon, but I can't locate any In Orange, 30 km further north, there is http://www.nature-bike-provence.com/index.php?id_product=9&controller=product&id_lang=5.
Be sure to check the gear ratios of these bicycles if you are planning to ride out of the Rhone plain.
Tip: The best located hotels often become fully booked, partly due to bike tours, so reserve in advance.
Circuits detailed in the Provence pages:
(1) Basic Cycling Circuit: Roman Heartland of Provence, the Rhone Plain, and the Alpilles
Rating: Easy, except somewhat hard to Les-Baux-de-Provence.

Extensions possible to the Camargue* (easy, unless wind), to Uzès (easy), to Nimes*** (easy or harder & traffic) to Northern Provence and Mount Ventoux (easy, or harder, or very difficult), or east to the Luberon (harder).
Possible end point: Aix-en-Provence** (rating: harder)
Via the Luberon and the Gorge of Verdon (Europe's deepest); (rating: easy, then harder, and then difficult)

******
(1)Basic Circuit: Roman Heartland of Provence, the Rhone Plain, and the Alpilles
Skill Level: Mainly easy. Flat to gently rolling with some minor hills and one big climb of about 650 feet (200 meters) to Les-Baux-de-Provence***.
Ending point: Ending point: Avignon.
Distance and Time: Basic circuit — 160 miles (200 kilometers), 6 days. Optional side trips — additional 90 miles (150 kilometers), 1 to 3 days. Optional extensions to the north — up to an additional 90 miles (150 kilometers), 3 or more days. A more leisurely pace could also add 2 or 3 days.
Itinerary: (Many variations are possible; rest days are not included.) The length of rides each day is about 30 to 45 kilometers, shorter than for other itineraries on this web site—due partly to hills, but mainly to the concentration of sights in the area, which beg for lots of visiting time.
Day 1: Arrive at Avignon*** by TGV by midmorning. Visit.
Day 2: Bike to the Pont du Gard. Don't take the shorter N100, a narrow, high speed, very busy, even dangerous road. From Avignon***, cross westwards on the northernmost bridge across the two channels of the Rhone. Make three right turns unto D2 along the river, and go south to Aramon (moderate traffic). Do note the special double TGV train bridge overhead: Only the French would put two bridges, to allow the trains to roll at higher speeds. Now, go west on D19 to Théziers. Then turn northward. You circle around Fournes and pass under the autoroute, turning left, still on D19. You can avoid the traffic of the main highway to Remoulin, N100, by turning left under a rail track where a sign says "Usine". At the end of this road, turn right and cross the tracks again into the center of Remoulin. Cross the bridge over the Gardon River, after the town, and then turn right, still on D98, and follow to the "rive droite (right bank) of the "Pont-du-Gard***. After seeing the bridge -- and perhaps picnicking there -- cross on the modern foot bridge, and ride to your hotel. Total ride 35 kilometers. (The expensive château-hotel at Castillon-du Guarde has a Michelin * restaurant; there are 3 other hotel choices.)
Side trip (adds one day): You may also, if you wish, continue this day, or the next on D981 another 15 kilometers to the picturesque town of Uzès (light traffic on D981). If you do bike to Uzès, consider visiting the pottery studios in the nearby village of Saint-Quentin-La-Poterie. After your visit, the next day, return to the Pont-du-Guarde*** or visit Nimes.
Side trip (adds one day): From either the Pont-du-Guard*** region or from Uzès, you can continue through rolling to hilly countryside to Nimes***, a large and auto-choked city with parks and Roman monuments. However, you must be very comfortable riding in unavoidable very heavy traffic on the northeastern periphery of Nimes (while in the Center of Nimes, you can use less busy bus lanes and back streets) To escape from Nimes after your visit, heading southeast,follow small, traffic-free roads to Rodihan, Manduel, then D403 southeastward, northeastward on D163, taking the second road on the right and riding through orchards to Beaucaire).
Day 3: From Pont-du-Guard***, ride on the highway to Beaucaire*, Tarascon*, and by D35 to Arles***(36 kilometers). Or, take the back route via Meynes and Jonquieres to Beaucaire, which adds 5 kilometers. Or ride to Cabrière (hills), Redessan, Bellegarde, and Arles*** (43 kilometers).
Side trip (adds one day): (From Bellegarde, continue to St. Giles and then to the Mediterranean at Saintes-Maries-de-la-Mer* in the Camargue*, where horses roam free and bird frequent the endless flatland of marshes, a total of 80 kilometers; if so, spend the night, and continue from there to Arles*** the next day in 38 kilometers).

Day 4: From Arles***, ride on D17 to Fontvieille, D78 to Les Baux-de-Provence***(altitude 280 meters), and then on to St.Remy-de-Provence.. Walk your bike up the hill to the ancient village of Les-Baux if need be. Allow at least two hours at Les-Baux.Above the restored, touristy old village lies the ruined chateau-fortress, an absolute must-visit with stunning views in all directions! You might possibly consider spending the night nearby in one of the extremely expensive, top rated inns with Michelin ** and *** restaurants.
After your visit, don't follow the obvious signs to St. Rémy on D27A, perpendicular to the road you rode up on. It's less scenic and has more traffic. Rather, to reach St. Rémy, continue further on the road on which you rode up, now D27, to the crest (a side road leads uphill to a fine view point). Then descend (a great downhill run) through the forest until the road emerges from the valley, and at the first intersection , turn right and follow this road into St. Rémy*, about 26 kilometers total. St. Rémy-de-Provence contains many picture galleries featuring the works of local artists. Hotels range from modest to top luxury, and restaurants are plentiful.
(From St. Rémy, you should probably take a side trip uphill 1.5 kilometers on D5 to see the Roman Ruins, including a mausoleum, called the "Antiquities"*, which flanked both sides of an ancient roman road leading to (the ruins of) Glanum**, which you may also visit. As you start to redescend from Glanum, the first driveway on the right leads to the sanitariums where the artist Van Gogh spent his final months.
Day 5: Ride from St. Rémy to L'Isle-sur-la-Sorgue*, a quaint town specializing in the resale of antique French furniture. Leave St. Rémy to the east on D99A, branch left on D30. through Noves to the intersection with highway N7 (16 km). If traffic is heavy on D30, you may branch off in 1 km to the right on D31 , and then follow D29b northwards, which adds about 5 km. You must now ride a kilometer on N7, to cross the Durance River, and another on D973 eastward, before branching off on a minor road (D25?) to Caumont-sur-Durance. Then follow D25 to L'Isle-sur-la-Sorgue. (The author has never ridden this particular route, but it is the only alternative, since the Durance must be crossed, and Cavaillon is to be avoided.) Total ride: 34 kilometers.
Check into your lodgings, and then continue to the Fontaine de Vaucluse*** (6 kilometers), where a voluminous stream "miraculously" emerges from a rock face (in later spring, summer and fall, you may be able to discern the top of the cave "without a bottom", from which the spring arises. Return to L'Isle-sur-la-Sorgue.
Day 6: Cycle from L'Isle-sur-la-Sorgue to Avignon*** (21 kilometers), and depart by train. Avoid the direct route, N100. A good alternative rather, is to follow a back road to Le Thor and then to St. Satirmom-les-Avignon. Link up with D97 (south of D28) and follow this to Avignon. Walk your bike on sidewalks, if you prefer, in Avignon.
Continuation Itinerary to the North:
Main Route (Requires 45 to 60 kilometer days):
Day 6: L'Isle-sur-la-Sorgue, Monteux (by D31), Sarriahs, Vacqueyras, Gigondas, Séguret (hotel), Vaison-la Romaine** (51 kilometers).
Day 7: Vaison-la-Romaine, D975 to Rasteau, Ste.-Cecil-les-Vignes, château Hotel of Rocheguede(****hotel*restaurant) (24 kilometers total) or continue from Rocheguede to Orange*** (hotels - 18 kilometers further) .
Day 8: Rocheguede toOrange***, with its Arc de Triomphe** at the northern entrance to the town, and its Roman Theater***, best conserved of the entire Roman empire. (Note: be very careful to avoid theft of your property in Orange -- lock your bike inside the theater entrance—i.e., past the ticket booth). Then D976 to Roquemaure (detour 6 kilometers each way, if desired, to Châteauneuf-du-Pape** (*restaurant)), D980 to Avignon*** (total of 45 kilometers). Depart Avignon*** by TGV train in late afternoon or early evening.

Northern Continuation Variation I: Day 6 or 7: Cycle through the Dentelles de Montmirail mountains* passing through Suzette at 734 meters, and Malaucène on way to or from Vaison-la-Romaine**; if done on day 6, then include Séguret on day 7.
Cycling Mount Ventoux: (requires an extra day, good weather, and that you be exceptionally fit): On Day 7 or 8 visit the Mt. Ventoux observatory*** at 1,909 meters (6,000 feet); check for good conditions first — it can be very windy and stormy at the top. The road to the observatory from Malaucène climbs 1,600 meters (5,200 feet) in 21 kilometers (8 percent continuous). Return by the same road. Malaucène has a hotel.
Continuation Biking Itinerary visiting the Luberon in the East:
Nature of the Ride: Why is the Luberon region of Provence so appealing? Think of small fields tiled into a mosaic under a bright southern light, splashed between low mountain ranges only 20 miles apart visible to both the north and south. Visualize villages filled with climbing vines and flowers, strewn along the high points of the hills with the mountains as backdrops, each village of unique architecture. Imagine small paved, virtually traffic-freelanes linking the villages. Imagine the odor of lavender, thyme, and aromatic berry-carrying plants that form the shrubby garrigue on the hillsides. Imagine succulent meals in small restaurants, accompanied by inexpensive but fabulous local red wines, and of colorful markets, and artists of studios and galleries chock-a-block with oil paintings in the colors of Provence – red, yellow and lime green.
The itinerary below takes only 3 days, and is highly recommended for reasonably fit riders who don't mind the climbs to the hill towns.
Day 5 from St. Rémy-de-Provence to Gordes, the Luberon, or beyond.
If you are starting from St. Rémy-de-Provence, ride to Gordes. Do not ride on D99 from St. Remy* to the Cavaillon bridge over the Durance River (unless perhaps early Sunday morning). The traffic is very heavy and even dangerous. The author did and was very sorry. A local cyclist recommended this routeto the Durance: Leave to the northeast on D30, bear right (on D31??) then take the second left to the north, then the next right (now D31 for sure) to Mollégès. Turn north towards Chapelle Ste.-Crois and St. Andiol. Make the first right onto D74, heading east and then southeast. At the intersection with D99, turn left.
You will find a sidewalk-bike path on the north side of the highway that angles off to the left, and crosses over the autoroute and the railway, and then, over the Durance River bridge
After the river, at the light, the bike path turns right and crosses D99 as a bike lane, along the Cavaillon bypass to the south. In a short distance the lanes end. At this point you must turn left, crossing the bypass at the light, and ride into a road leading to the hippodrome (horse racetrack) (or perhaps it is to the tennis courts...the author missed the turn, but read about it later). The bike route (marked with a rectangular panel with a cyclist on a blue field and an arrow pointing to a white area) crosses under the rail tracks, and leads to Les Taillades and then Robion.
Robion, is in "The Luberon", the very touristic region of Provence loved by many. You can turn north and ride to the hill town of Gordes* (total distance of about 40 kilometers from St. Remy), or perhaps continue on the south side of the Coulon stream along the bike trail (following the blue and white cycling signs) as far as Bonnieux—a longer (50 km), hilly, strenuous, but exhilarating trip. (The blue and orange rectangular signs point out the bike trail in the opposite direction).
Hotel space can be particularly tight in Gordes, and can also be tight in Bonnieux. The author had his best meal ever in Provence at the Bonnieux restaurant, Le Fournil.
Luberon Day 2: From Gordes* (or start from Bonnieux) ,in a very long, hilly day, ride to Ménerbes ("Year in Provence" town), Bonnieux* (hotels), Roussillon* (ocher quarries, hotels), and back to Gordes*, a total distance of 45 kilometers (all are hill towns worth visiting. An extra day is desirable for non-fit or easygoing cyclists, or spend the night at Roussillon* and bypass Gordes* and the Abbey of Senac**).
Luberon Day 3: From Gordes* (elevation about 300 meters) a 4 kilometer ride on D117 — a long climb (from the bend below the town on the main road), followed by a steep descent— leads to the Abby of Sénanque**. (It's lavender fields are in bloom in July, but don't make the ride then, unless you love scorching heat.) From there, climb and descend back to Gordes*, then to Cabrière-de-Avignon, Fontaine-de-Vaucluse***(river emerging from a rock face), and L'Isle-sur-la-Sorgue (29 kilometers total) (Or, continue to Avignon in a long day.). Or fit cyclists can ride around to the Fontaine-de-Vaucluse in a counterclockwise direction, passing from the Sénanque Abbey on D177 or directly from the château in Gordes on D15 (or via Murs) over a pass at about 600 meters to Vanasque (a charming village), and Pernes-les-Fontaines (about 63 kilometers total). Or continue northwards towards Mount Ventoux.
Next Day: To Avignon, as in the main itinerary, or to Northern variation.
*****
Day 6 from L'Isle-sur-la-Sorgue to Gordes, the Luberon, or beyond.
If you are starting from L'Isle-sur-la-Sorgue, visit the Fontaine-de-Vaucluse (about 8 km). Then bike uphill through Cabrieres-d'Avignon on D100 and follow D2 uphill into Gordes (an additional 6 km). Consider visiting the Abbaye de Sénanque, or continuing towards Roussillon.
Luberon Day 2: See above
Luberon Day 3: Retrace your steps, as above, and return to Avignon, or follow the alternative ending below.
Alternative ending of trip: Day 6 or 7: Gordes*, Roussillon*, Ménerbe, night in Bonnieux* (35 kilometers).
Day 7 or 8: Leave Bonnieux* via D943, Lourmarin, Cadanet, Abbey of Silvàcane**, Rognes, Aix-en-Provence** (about 53 kilometers).
Day 8 or 9: Depart from Aix-en-Provence** by train to Marseilles, then transfer to TGV train or air.
Cycling the Luberon Bicycle Route

A signed bike circuit of the north and south sides of the Luberon mountain massif is possible, all on minor roads or bike path. The bike circuit, as well as mandatory visits to Gordes and Roussillon, necessitates 5 or 6 days in the Luberon.
I have personally cycled on the Luberon Bike Route between Cavaillon and Bonnieux, and again from Apt to Céreste. I was very impressed with the signage, the lack of traffic, and the quality of the route. Only in the very center of Apt is there heavy traffic, but you can walk your bike for a few blocks. From Apt eastward, for approximately 8 kilometers, the route follows an old rail bed that qualifies as the Luberon's only bike path. Although somewhat near the main highway, riding is very pleasant.
Starting Point: Cavaillon Railroad Station. Or join the routeselsewhere in the Luberon, as described on the Provence Page.
Ending Points: For Luberon Cycle Route, the railroad station in Cavaillon , or continue to Aix-en-Provence, or to Avignon.
For the point to point trip to the Cote d'Azur, the Cannes railroad station on the French Riviera.
Maps, Route Map and Lodging: Navigate to the following website in English with all the information you'll need on the Luberon bicycle routes: http://eng.veloloisirluberon.com. Download maps as necessary. There are two side circuits off the main circuit, if you wish a longer trip. Note especially the signage for the clockwise and counterclockwise directions.
You may wish to obtain the IGN 1:60:000 map "Parc Naturel Régional du Luberon", which shows the entire area of the Luberon, with the bicycle route indicated in a blue-slate color. Plan the length of your days, and make advance reservations.
In a typical year most accomodations in the Luberon sell out in advance. The internet sites http://www.provenceweb.fr/f/vaucluse/hotels.htm and http://www.luberon-news.com/lbbf.php are excellent sources of hotel information, and on related pages, information on chambre d'hôtes (bed & breakfasts).
If you are staying in hotels or chambres d'hôte, and circling clockwise, initial stops might be Bonnieux, Céreste or Forcalquier (or both).
Bike Repair:Cavaillon, Bonnieux, Apt, Céreste, Forcalquier, Manosque, perhaps others on south side of the Luberon mountain chain.
Tip: If this is your first trip to the Luberon, the author strongly recommends taking an extra day or more to visit Gordes and Roussillon, before picking up the route at Ménerbes.
When to Go: Late spring or fall. The dry climate of this interior valley leads to extremely hot summers and cold winters. The mistral wind may enter the valley in winter and early spring. See the Provence page of this site.
Attractions: The Provence page of the site discusses the touristic villages of Menerbes, Gordes, Roussillon and Bonnieu, and the Abbaye of Sénanque. Other picturesque villages abound.
The Luberon Bike Route:
Known in French as the "Tour du Luberon", this signed route on lanes and minor roads provides fabulous riding, almost completely without traffic, through many picturesque hill villages for four to six days of intermediate cycling A pdf brochure in French, part of which is reproduced just below, indicates signage, elevations, and the route. It may be found at the URL: http://eng.veloloisirluberon.com. Click "Around theLuberon", then click on the brochure. Other circuits are also accessible from thr URL above..See the author's commentary in the blue colored area below.